Russell L. Jacobson
Facility Manager, BS Ed
(480) 654-1800
Russell.Jacobson@ChristianCare.org
Russell Jacobson has been the Facility Manager for Fellowship Square-Mesa for the last 10 ½ years.  He is a native of Minnesota and has lived in Arizona for the last 15 years. Russell grew up on a farm near Rochester, Minnesota. He taught and coached High School for 8 years in Iowa and worked for 17 years as the Manufacturing Manager Director of Operations for a national high end wood office furniture manufacture in Minnesota. Before moving to Arizona he lived in Hudson, Wisconsin and worked as a manufacturing software consultant.
Russell has a great sense of humor. He is a father of two and a grandfather of twins. Russell has an amazing heart for people and loves to serve others. We are blessed to have Russell on our team and enjoy his light hearted approach to life. 
Russell enjoys listening to and participating in a wide range of music. He also plays golf as well as hikes the many trails in Arizona.
Russell's varied experiences have been a benefit and will continue to be a benefit to Fellowship Square-Mesa. Russell says that he is here to serve the residents as well as all the teams of Fellowship Square-Mesa.

Bob
I love living in a community where my friends appreciate my sense of humor:  10,000 Swedes came thru the weeds chased by one Norwegian.  The dust from the weeds and sweat from the Swedes made snuff for the one Norwegian.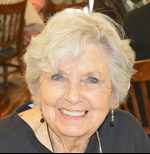 Colleen
I enjoy riding the bus to and from medical appointments.  I don't have to think about where to go or park my car.  And I love the drivers, they are so patient and kind. 
Kitty
I am so happy that I am living at Fellowship Square.  The food is wonderful and I can play bridge whenever I want.