COVID-19 Updates
---
Monitoring Community Levels
As we continue to monitor the COVID-19 pandemic and its impact, our focus is on the well-being of our residents, staff, and visitors. 
The CDC's COVID-19 Community Level guide provides a county view of the current COVID-19 infection rate which they divide into three levels: low, medium, and high. This information helps communities and individuals make decisions about prevention strategies, based on their local infection rates and their unique needs. You can use the CDC's "COVID-19 County Check" tool below, to see the community levels and prevention steps by county.
Safety Precautions Still in Place
We continue to adhere to the best practices and safety protocols set forth by the CDC, Arizona Department of Health, and the Yavapai County Department of Health to mitigate any future spread of COVID-19.
The following safety precautions will remain in place across our senior living campus:
---
Helpful Tools & Resources
The beautiful Arizona weather is upon us, and now is the perfect time to get outside and enjoy time with friends and family! Why not make health and wellness protection part of your spring and summer planning?
We've provided links to some of the CDC's helpful tools and tips for staying healthy on this page. 
Three easy ways to find a COVID vaccine near you:



---
Help Protect Yourself & Others
Those who are not fully vaccinated against COVID-19, including children under the age of 12, should use prevention strategies, such as wearing masks, physical distancing, hand hygiene, and respiratory etiquette. These strategies also apply to protecting you from the flu and common cold!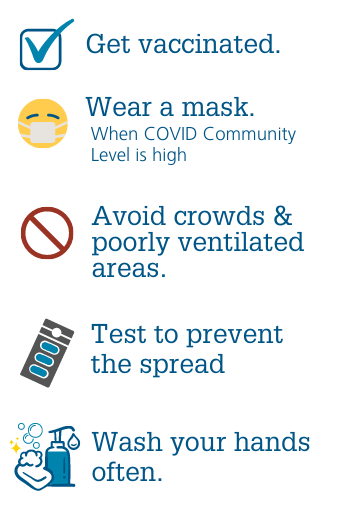 Also from the CDC: Travel Planning