Fellowship Square Independent Living
COVID-19 Updates
---
CDC's Updated Mask Guidelines
On Monday, May 24, 2021, face masks became optional for fully vaccinated individuals in Independent Living.
Those who have not been vaccinated are requested to wear a face mask inside common areas of the community. 
Note: Masks are still required in Assisted Living and Skilled Nursing Facilities, regardless of vaccination status. When visiting either one of these settings, masks must be worn at all times.
Individuals are considered fully vaccinated two weeks after their second dose of the Pfizer or Moderna vaccine or two weeks after the single-dose Johnson & Johnson vaccine.
Please keep in mind, scientists are still learning about the COVID-19 vaccine and how it will affect the spread of the virus. According to the CDC's website, these recommendations can help individuals in the general public make decisions about daily activities after they are fully vaccinated.
---
Amenities continue to reopen!

Dining Venues
The Main Dining Room is back open for all-day dining, from 11:00am to 6:00pm. Reservations are recommended for parties of two (2) or more. Walk-ins will be accepted based on availability. For those who prefer to dine at home, they may choose free pick-up or add a $2.00 delivery charge.
The Garden Café is open from 7:30am to 6:00pm for sit-down dining, snacks and quick 'grab & go' items.
Learning Center
The Learning Center is now open Monday through Saturday, from 9:00AM to 4:00PM, and Fellowship Square University is back in swing!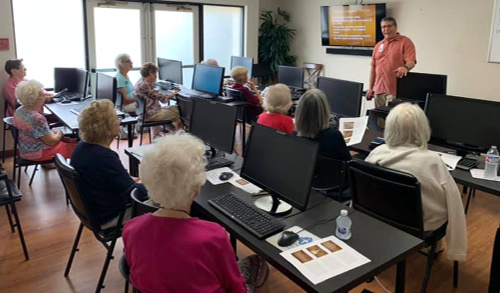 Fitness Center
The Fitness Center is open by appointment only. If you are interested in reserving a spot with one of the Well-Being™ fitness trainers, please stop by the Fitness Center to have your name added to their schedule. Exercise is not only great for strengthening your body, but it is also very beneficial for your emotional and mental state of mind!
Transportation
Our Transportation Department continues to expand its capacity as well. In addition to essential trips, such as doctors' appointments, grocery stores and pharmacies, we are taking excursions off campus once again! Most recently, our residents visited the Boyce Thompson Arboretum, took a trip out to Chandler for some goat yoga and will be attending a play at the Hale Theater.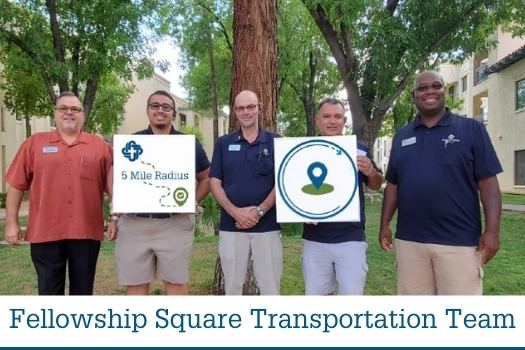 Please note: regardless of vaccination status, all staff and residents must continue to wear a face mask while inside Christian Care/Fellowship Square vehicles.
---
Safety protocols remain in place
As mentioned earlier, face masks are now optional for those individuals who are fully vaccinated. This only applies to our independent living buildings, whether gathering inside or outside, or in large or small groups.
Individuals who are not fully vaccinated must continue to wear face masks inside. Face masks are not required outside.
The following safety procedures and guidelines remain in place at our senior living community:
Most importantly, please do not visit if you are not feeling well!
For questions and to receive updates via email:
CommunicationOnline@christiancare.org
If you would like to receive email updates, please send us an email to the address above and we will add you to the distribution list.