Downsizing Seminar: Wednesday May 9 Learn the upside of downsizing
Monday May 07, 2018
Categories: General, Independent Living, Assisted Living
Independent living can mean many things, including downsizing for a relaxed lifestyle. But where to start? You're invited to gain some practical advice from Robin Adrihan of Smooth Transitions of the Valley.
Wednesday May 9 at 1 pm
Cross Church
17475 W. Bell Rd., Surprise AZ
(Go west on Bell Rd. to 175th Ave. Cross Church is on the SE corner)
Refreshments served
RSVP: (623) 900-1552
Are you looking to downsize to a smaller home? Or, maybe you want to find independent living or assisted living communities? Robin will share helpful suggestions on how to:
• Take the stress out of moving
• Let go of your "treasures"
• Avoid 5 common moving mistakes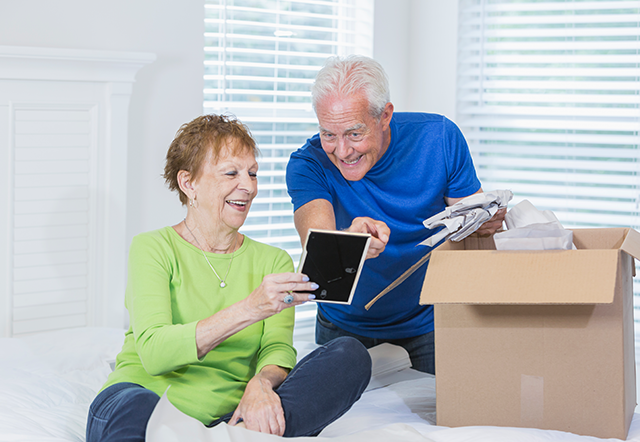 Relax, with some planning and help, downsizing can be an uplifting and manageable experience. Many find the move a chance to walk down memory lane with loved ones.
Make a pre-move list
• Mark your moving date on the calendar and share with family and friends.
• Establish a timeline that is realistic to the size of the job.
• Assign daily tasks for yourself and your helpers.
• Make a floorplan of your new residence to ensure what you move will fit.
• Check moving companies for estimates.
• Consider hiring a professional moving manager to do all the planning for you.
Get paperwork done early
• Start making a list of who to notify of your move early in the process.
• Contact the post office to change your address.
• Update your address if needed on bank accounts, investments, doctors, social security, subscriptions and anyone else who needs to know.
• Tell friends, family, social clubs, churches, lawyers and others of your move.
Tackle one room at a time
Senior Living suggests packing one room at a time and dividing the rooms into four general categories by color.
• Definitely bring to the new place – red
• Maybe bring to the new place – orange
• Sell, give away or donate – blue
• Throw out today – black
Of course, you can choose your own colors. The idea is to divide a houseful of items into manageable categories. Later, you can further divide "sell," "giveaway" or "donate" into smaller piles. Give yourself enough time to comfortably do each room.
Make time for sentimental items
You'll smile, laugh and cry when you sort your special treasures. And that's perfectly normal. So, make time and ask loved ones to help. Senior Living suggests:
• Make a list of people who you want to give stuff to.
• Collect photos and other items you don't want to part with and explore if they'll fit in the new space or not.
• Consider photographing items that won't fit that way you'll still have the memories the item elicits.
Pack up and organize
Packing can be a big job. So plan ahead and ask for help from family and friends. U-Haul offers these general packing tips.
• Start packing the things/rooms you use least.
• Pack a room at time and don't mix rooms in the same box.
• Pack heavy items in small boxes.
• Pack an "Open First" box and load it last onto the truck.
• Keep medication or anything you need to use throughout moving day in the cab of the truck.
• Don't use duct-tape to seal boxes.
• Take apart furniture and save all small bits in a bag taped to the piece of furniture.
• Pack heavier items at the bottom of the boxes.
Even if you missed the seminar, Fellowship Square Surprise is always here to help answer questions and guide residents in their move in process. Please give us a call at 623-900-1552 for any questions about independent and assisted living information, for the Surprise campus.