Events & Activities
Moving into an Independent Living community isn't about giving up your freedom and independence; it's about choice. Staying socially connected is vital to maintaining overall health and wellness, especially for seniors.
We offer continuing education, customized wellness programs, extensive opportunities to enjoy life-long hobbies, and outlets for new experiences.
So, whether you decide to fill your daily calendar with scheduled activities or participate in a select few that pique your interest, there is something for everyone.
Give us a call to schedule your tour today:
Our team of senior living experts is here to answer your questions and would love to show you everything we have to offer!
---
Monthly Newsletters & Calendars
Our Activities Department is dedicated to keeping our activities calendar fresh and inspiring, with a variety of events both on and off-campus. Each month, they publish a community newsletter and calendar to keep our residents updated on community events and activities.
The only problem is finding enough time to fit in all the fun!
---
Wellness & Exercise for Seniors
Another significant factor in maintaining health and wellness is regular exercise. We partner with Symbria to offer a unique wellness program specifically designed for seniors, called Well-Being™. Formerly known as SeniorFITness™, this program provides one-on-one fitness instruction, exercise classes, and education sessions that enable seniors to stay fit, build strength and prolong their independence. We offer this program to our residents at no extra cost. 
Our Certified Fitness Specialists coordinate with each resident's physician to create a personalized fitness program to meet the abilities of each participant. 
Fitness Center at Fellowship Square Surprise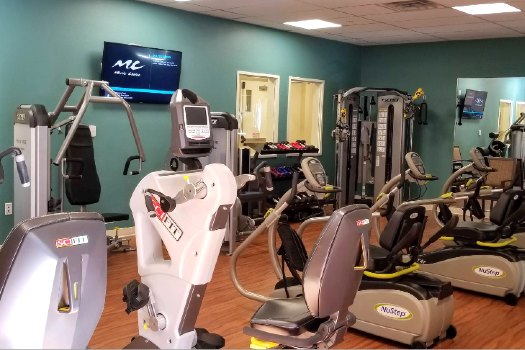 Our Fitness Center is well-appointed with exercise equipment specifically designed for older adults. It is the perfect place for residents to work out independently or with one of our fitness instructors.