Senior living in AZ during crisis
How senior living communities can offer families peace of mind during these challenging times.
Deciding that it is time to search for a senior living services can be a difficult decision. Families naturally have many questions. During these unprecedented times, even more questions may arise. Fellowship Square Surprise is here to answer your questions and help you move forward with confidence.
If you started your search for senior independent living or assisted living in Arizona before the COVID-19 outbreak, chances are your efforts have been put on hold. However, for many families, finding the right senior living services cannot wait.
When selecting a community, the number-one thing families should ask is, "what does the individual making the move want?" Second, are the geographic location and community attitude right for the family? Be sure the community will meet the resident's needs in terms of care and medical services.
Nowadays, families should also inquire how the senior living community is addressing the pandemic. This will give you a sense of how responsive and prepared the management and staff are in an emergency.
What Fellowship Square Surprise in Arizona is doing
The safety and well-being of our current and new residents and our teams is our highest priority. Our Chief Executive Officer, Alan Hieb, instituted immediate measures to help keep residents and staff safe from the virus, including:
Visits are restricted to essential visitors (medical providers, hospice care providers, and visitors of residents who are at the end of life).
Families and friends are encouraged to visit with residents via Skype, FaceTime, phone calls or email.
Large group activities are cancelled, but one-on-one and virtual activities are encouraged.
Small group activities will maintain social distancing protocols.
Residents and staff are reminded to adopt social distancing and frequent hand washing.
All meals are being delivered to residents' apartments or rooms.
Telehealth, telemedicine, and interventions are supported and encouraged.
Review the complete report and find updates from Alan Hieb and the Christian Care/Fellowship Square's preparedness task force.
Here's how to continue your search
Although many senior communities and nursing homes are closed to visitors at this time of crisis, websites provide an abundance of information. Use this time to gather and compare information. At Fellowship Square Surprise, we suggest identifying the types of services you or your loved one may need.
Independent Living
Our vibrant, luxurious community offers a wide range of amenities with the freedom to live independently. Explore our fully equipped apartment homes, pretty grounds, wellness programs, and so much more. Our residents love that they can make friends and enjoy a full social life while living here. There are even many opportunities to stay socially engaged while practicing social distancing. Your choices are many at Fellowship Square Surprise, a one-of-a-kind senior living community. Learn more about independent living >
Assisted Living
When assisted living is needed, Fellowship Square Surprise offers three levels of care: Supervisory Care, Personal Care and Directed Care. What's more, Certified Caregivers are on staff 24/7. And residents enjoy meals, housekeeping and many more services to make them and their families comfortable. During a time of crisis, we understand it can be hard to leave the care of a loved one to another party. However, it's often best for the resident and the family. Knowing a loved one is receiving attentive, professional care during times like these provides families peace of mind. Learn more about senior assisted living >
Memory Care
Residents with memory loss will find the same loving care all residents receive. We offer two different floorplans for families to select. And the common areas are designed to ensure wellbeing and security while still providing a home-like atmosphere. The need for services for residents in Memory Care can be critical, especially during uncertain times. Fellowship Square Surprise is dedicated to providing our residents a safe home. Learn more about senior memory care >
Virtual tour of our property
Arizona's blue skies and our lush grounds make for a stunning community. We take pride in our well-maintained and attractive grounds.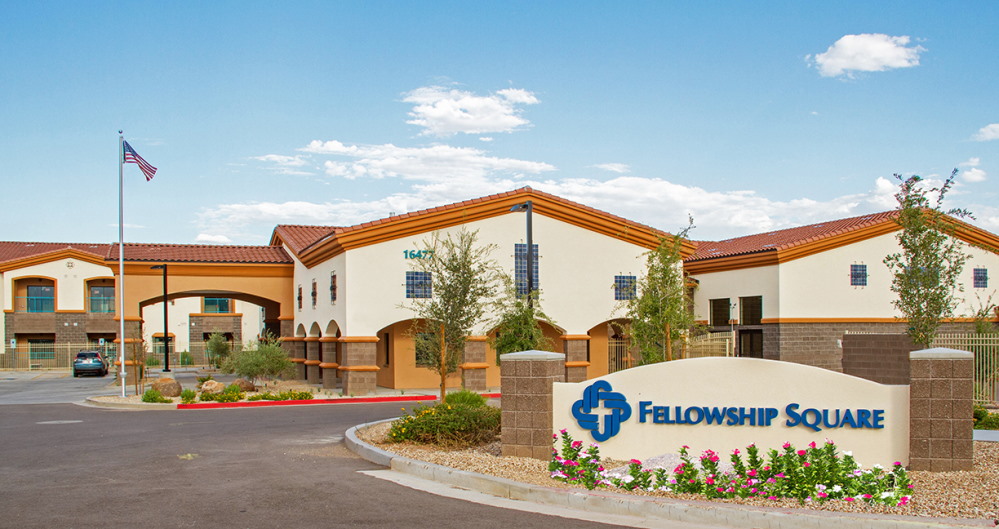 Virtual tour of independent living for seniors
You have a choice of four apartment home models. Enjoy this quick video tour. Then learn more and check out what's included here.
1-bedroom independent living apartment home

2-bedroom independent living apartment home
Please contact us to learn more about touring our community during this pandemic. Or if you have any questions about living at Fellowship Square Surprise, please don't hesitate to call (623) 900-1077; one of our staff members will be happy to help.