Frequently Asked Questions (FAQ's)
Whether you are looking for yourself or your parents, we know that choosing to move to a Senior Living Community is a big decision.  We try to be as transparent as possible.  That is why we publish our pricing online. We want to answer as many questions as you can to help you make the best decision.
---
Independent Living (FAQ's)
Do your apartments come furnished?
No, our apartments are unfurnished. We would like for you to bring your own furnishings, the items that you love best, and make you feel at home. We will, however, help you hang your pictures, tv, and other special décor at no charge.
What if I wanted to cook my own meal?
Our community offers 25 meals a month, served in our dining room; your apartment will have a fully equipped kitchen. You will have a full-sized flat top stove, dishwasher, and microwave so that you can make meals at your convenience or enjoy a hobby like baking. It's also good to know you can have more meals in our dining room as well, take out and delivery are all available for your convenience.
What are your meals like?
Fellowship Square-Mesa provides daily breakfast specials as well as other morning entrees.
We also offer a choice of 4 entrees daily for lunch or dinner.
Residents play a significant role in influencing the variety of food that is prepared for them. Residents have a food council where you can express your different ideas related to the menu. In addition, our staff is always willing to work with you to provide meals to meet health needs.
Can I bring guests to the dining room?
Yes, Fellowship Square -Mesa encourages family and friends to join you for any meal. We want everyone to enjoy our excellent food and friendly atmosphere. You can bring guests daily for just a few dollars more and on special occasions, and holidays.
What types of activities do you have?
Fellowship Square -Mesa is a resident-driven community. The activity calendar is created based on the resident's interests. In addition, there are a lot of health and wellness programs on an ongoing based.
Some of our current popular activities include Thai Chi, water Aerobics, Art Club, Bridge, and Bible study.
Residents enjoy the planned activities as well as their own hobbies with each other.
What types of fitness programs do you have?
Fellowship Square-Mesa has a fitness program specialist. If you receive clearance from your Doctor, you can have our personal trainer work with you one on one, and it is included in your monthly rent. She can work with you on anything from balance, strengthening, or endurance…whatever meets your personal needs.
Are there volunteer opportunities?
Yes, Fellowship Square-Mesa's goal is for residents to live with dignity and purpose. As a result, our community is run by volunteerism. We have a resident-run library and store. In addition, residents volunteer with our weekly Church services, visit other residents, maintain our gardens, and so much more. If you enjoy doing it, we will find a way to help you find purpose.
Are pets allowed?
Yes, Fellowship Square-Mesa is pet friendly! You can have a small pet that weighs less than 30 lbs. We know how important your pets are to you. We have specific areas we suggest you walk your pet and ask that you simply respect your neighbors. We do require a pet deposit, and if needed, we can walk your dog for you for a small cost.
Can I bring my car?
Yes, you can bring your car. We have options for assigned covered and non-covered spots for a reasonable monthly fee located near your apartment. If you prefer not to have a designated place, we have general parking for free as well. If you decide not to bring your car, we have bus transportation to shopping and special events. We also travel to Dr's. Appointments within 8 miles of our community at no extra charge and can accommodate special requests for a fee if needed.
Do you provide housekeeping?
Yes, Fellowship Square-Mesa provides housekeeping twice a month.
Do you sign a lease?
Yes, in Independent Living, you sign a one-year lease.
What if my parent's needs increase as they age?
Fellowship Square -Mesa offers a continuum level of care. We provide Independent Living, Assisted Living, and Memory Care. Our goal is to help you, or your loved one live in the neighborhood where they will thrive. As health needs increase, we can provide some supportive services for a fee within their Independent apartment. Our staff can help guide you in the process, assess and assist as the needs continue to grow.
Can I continue to see my own Doctor?
Yes, you always have a choice when it comes to your own health. However, Fellowship Square-Mesa has lots of resources for you. We can provide you with options for mobile doctors that can visit you on campus in your apartment. We also have great relationships with healthcare providers, hospice agencies, and mobile dentists, and other mobile services.
Is there staff on duty at all times?
Yes, we have 24-hour security. Our office is open Monday through Friday at 8:00 am. To 5:00 pm, and on Saturday's from 10:00 am to 3:00 pm.
However, all residents have an emergency pendant that, if they push, can connect them to security at any time day or night.
How does the emergency pendant work?
Our emergency call system is a pendent that, as a resident, you wear on your wrist or around your neck. It is great because it goes where you go, it can be worn in the shower and works anywhere on our property. When the resident pushes the pendent, security will assist them and make sure you get the care you need.
When can I move in?
We hope that you decide to make Fellowship Square-Mesa your home.
If you chose to do that, our Marketing Associate would walk you through the steps of finding the perfect apartment to meet your needs while helping to make the transition from your old home to your new home an easier one.
---
Oasis Assisted Living (FAQ's)
Are the Apartments in Assisted Living a shared or private living arrangement?
Each apartment is Assisted Living is private.
What is the difference between an Assisted Living Community and a Nursing Home?
Nursing home residents require daily medical care. To be able to meet the resident's health care needs, a nursing home provides a 24-hour nursing staff.
An Assisted Living community allows an aging adult to live independently in a safe, secured homelike environment. If needed, residents can receive help with their activities of daily living (ADL's). Assisted Living Communities provide 24-hour caregiving services that are overseen by a nurse; however, advanced medical care is not provided.
Do you provide housekeeping?
Yes, Weekly housekeeping services are provided.
What are your meals like in Assisted Living?
We have restaurant-style dining options in our Assisted Living buildings. Fellowship Square-Mesa provides daily breakfast specials as well as other morning entrees. We also offer a choice of 4 entrees daily for lunch or dinner.
What type of activities do you have in Assisted Living?
There is a wide variety of scheduled activities for our residents in Assisted Living to choose from that stimulates the mind, encourages social interactions, and promotes physical activity.
More is coming soon.

Bob
I love living in a community where my friends appreciate my sense of humor:  10,000 Swedes came thru the weeds chased by one Norwegian.  The dust from the weeds and sweat from the Swedes made snuff for the one Norwegian.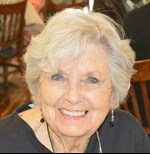 Colleen
I enjoy riding the bus to and from medical appointments.  I don't have to think about where to go or park my car.  And I love the drivers, they are so patient and kind. 
Kitty
I am so happy that I am living at Fellowship Square.  The food is wonderful and I can play bridge whenever I want.