Healthy Snacking Tips for Seniors
Monday October 02, 2017
Categories:
When it comes to getting the proper nutrition, many seniors struggle with fulfilling their daily requirements for a number of reasons. Certain illnesses and/or medications can interfere with a senior's appetite, gum or dental sensitivity can make seniors less apt to eat and seniors living in an assisted living facility may not feel entirely comfortable eating in a congregate dining room. However, it's important that they still get the nutrition they need, which is where caregivers and loved ones can help. With some simple and healthy snacking ideas, seniors can get their nutrition and enjoy foods with naturally delicious flavors and textures.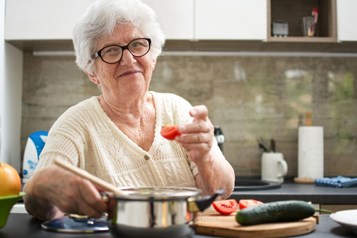 Sunflower seeds and pumpkin seeds are ideal substitutions for greasy chips and they still satisfy the salt craving.
All natural dried fruit has just the right amount of natural sweetness. Combining dried fruits — from blueberries, cranberries, cherries, peaches (the list goes on and on) — with nuts, seeds, and oats makes for a great take-along trail mix.
Avocado toast is all the rage in popular restaurants right now for its simplicity, bold flavors, endless topping combinations, and yes, healthy dose of nutrition!
Hard-boiled eggs are packed with protein, low in calories, and easy to chew. Sprinkle them with paprika, BBQ seasoning, garlic powder, or chopped fresh herbs to kick up the flavor profile.
Traditional and flavored hummus varieties offer protein, and you can't go wrong with any number of raw veggie choices from cauliflower and broccoli florets to tomato and cucumber slices. Toasted whole grain pita or pita crackers are another great pairing with hummus.
String cheese and crackers is a simple and satisfying duo. Choose whole grain crackers for this simple and portable snack.
Smoothies are another great way to ensure seniors getting enough fruits and vegetables in their daily diet. Try adding banana, Greek yogurt or milk for a creamier result, or honey or juice for a sweeter, tangy smoothie.
Layer deli meats, cheeses and thinly sliced veggies onto a tortilla (try whole grain or flavored varieties), then simply roll, slice into inch-long pieces and serve!
It's important to monitor the eating habits of the senior in your life if you feel their nutrition is in need of a revamp. A simple chat with the caregiver at their living facility or with their doctor can also ensure the senior's nutrition needs are being properly met.