5 Best Fitness Tips for Seniors Over the Age of 75
Monday October 23, 2017
Categories:
It's never too late to get back in the game when it comes to health and fitness. As a senior citizen over the age of 75, however, there are specific safety precautions that should be discussed with a doctor prior to beginning a new exercise routine. Once Doc has given the green light, read on for some fitness tips to get started!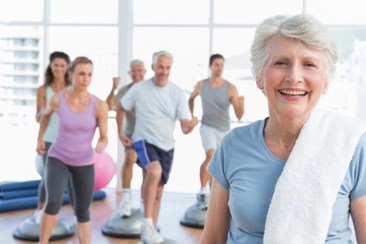 Start Slowly
It's important to understand that the body may move a little differently (or slowly) than it did at age 25. Give the body the respect it deserves during the onset of a new exercise program. When starting a new fitness program, keep exercise sessions brief, and only dedicate a few days a week to the new fitness routine. Gradually build from there.
Recruit a Buddy
Having a workout buddy turns the sometimes tedious task of exercising into a fun, social activity. The other benefit of having a workout buddy is having another person there to spot one another during training sessions and lend a helping hand in case of a fall or other incident.
Incorporate Resistance Training
According to the Centers for Disease Control and Prevention, less than eight percent of adults over the age of 70 get the recommended 150 minutes of exercise weekly to get their heart rates up, nor do they strengthen their muscles twice a week as suggested. Resistance training is a beneficial way to build muscles and keep bones healthy. Examples of resistance exercises include wall push-ups, squats, planks and hip bridges.
Join a Group
Whether getting a gym membership or taking community fitness classes, participating in a group activity gives exercisers a sense of accountability as well as a fun environment in which to socialize with others. When trying a new fitness routine, seeking the expertise of a trainer can also be very crucial to ensuring the movements are being done correctly to avoid straining, pulling or otherwise injuring the body.
Incorporate Good Nutrition
Exercise is important for all around physical and mental health, and can help with weight loss, too. However, a fitness routine is much more impactful when paired with proper eating habits. Fresh vegetables, fruits, lean proteins and whole grains are the fuel the body needs to get through any physical activity.
As adults age, fitness can be fun, beneficial and contribute to a wonderful quality of life after the age of 75. However, it's important to know one's own health limitations and to give the body time to rest in between fitness sessions.