New Holiday Traditions to Start with Seniors
Monday November 13, 2017
Categories:
With the season of fall celebrations in full swing, there's no better time to consider how the holidays might be impacting seniors and loved ones that are aging, ill or experiencing dementia and other diagnoses that will change the way holiday celebrations take place. Considering the senior's specific health needs, carving out new holiday traditions can be fun for the whole family. Fellowship Square offers the following tips for caregivers: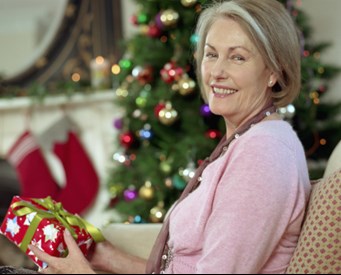 Focus on the Spirit of the Season
Thanksgiving may have gotten to be much more about the feasting than giving thanks and Christmas has become more commercialized, but consider the fact that as people age — and at any age — it's important to recognize the real "reason for the season" versus the gifting and the parties. Instead of focusing on a big gathering, keep holidays celebrations small, and redirect these get-togethers more on simply spending quality time together versus big feasts, gift giving or long guest lists.
Have an Attitude of Gratitude
At Thanksgiving, instead of stressing out about the perfect stuffing, why not start a new tradition of having each guest or family member give thanks and share a special memory that includes the senior? This is a great way for the aging senior to feel appreciated while also relieving priceless memories.
Go to Church
Spending the holidays with the Lord is a wonderful way to make people of all ages feel as though they are not alone. In God's presence, there is strength. Getting together to pray or attending a special holiday sermon together as a family or with a senior loved one is a wonderful, yet perfectly simply and non-stressful way to celebrate the holidays.
Make Handmade Cards
In lieu of gifts, having the loved one's grandchildren make handmade cards from the heart is a great way to decorate the senior's living space for the holidays and also send messages of love from those that can't be near during the season. No matter their age, children's heartfelt and handwritten messages are sure to uplift spirits this season.
Take a Walk
If the weather is not too brisk, and the senior is feeling up for some activity, bundle up, pour some coffee or hot chocolate into to-go mugs and head out to a neighborhood that is dedicated to "lighting up the night" with festive Christmas lighting and décor. Something as simple as viewing these beautiful and unique lighting displays, while walking arm in arm with family and loved ones makes for a very special holiday memory.
Remember that as seniors age or as dementia sufferers progress in their illness, keeping visits and experiences brief, and as non-stressful as possible is important. The fast pace of the holiday season may cause anxiety and even confusion, so try to make time for quiet times and proper rest for loved ones during the season — and all year long!