November is National Family Caregiver's Month
Monday November 20, 2017
Categories:
All month long, November is dedicated to honoring family members, friends and others that provide care for their relatives and loved ones. During National Family Caregivers month, recognition is given to these selfless people. In a 2012 proclamation regarding National Family Caregivers month, President Barack Obama spoke these important words:"Family members, friends, and neighbors devote countless hours to providing care to their relatives or loved ones. During National Family Caregivers Month, we recognize and thank the humble heroes who do so much to keep our families and communities strong."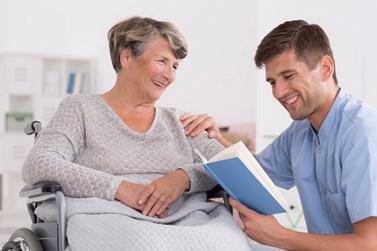 However, National Family Caregivers Month has been in the works long before 2012. In 1994 the Caregiver Action Network starting promoting national recognition of family caregivers, and in 1997 President Clinton signed the first NFC Month Presidential Proclamation. Since then, every November each succeeding president has followed his lead by issuing an annual proclamation recognizing and honoring family. According to the Caregiver Action Network, November has been dedicated to caregivers to help raise awareness of family caregiver issues, celebrate family caregivers' efforts, educate family caregivers about self-identification and increase support for family caregivers.
The organization also offers tips to help family caregivers including seeking support from other caregivers in effort to quell the feelings of aloneness in these efforts and taking care of one's own health needs. The Caregiver Action Network also suggests accepting help when it's offered and delegating specific tasks that people can help with, learning about how to effectively communicate with the loved ones' doctors, keeping legal documents in order and seeking technologies to help make the caregiving tasks easier. The network advises caregivers to take breaks when needed and give one's self credit for the hard work being done. Perhaps most importantly, the Caregiver Action Network encourages caregivers and their loved ones to watch for signs of depression.
According to the Family Caregiver Alliance, "for caregivers, depression is more common than you might think, and it's a normal response to a difficult situation. It is not unusual for caregivers to develop mild or more serious depression as a result of the constant demands they face while providing care." Research also shows that people that care for loved ones with dementia are twice as likely to suffer from depression than a person providing care for someone without dementia. However, caregivers might not think they are experiencing depression, as symptoms can develop in many forms, or they might not want to admit their feelings.
Caregivers experiencing feelings of depression, or symptoms ranging from feeling numb or overwhelmed to loss of appetite, becoming easily agitated or angry, or turning to over-consumption of alcohol or drugs, should seek the counsel of a doctor right away.
There are many ways to recognize and thank a caregiver – a simple card, a thoughtful thank you, or a special gift from the heart. National Family Caregivers Month is an important time to recognize the difficulties and challenges that caregivers often face and show gratitude for all they do.