Tips to Help Seniors Reduce Falls
Monday November 06, 2017
Categories:
As elderly people continue to age, falling can become a major health risk. According to the Centers for Disease Control and Prevention, more than one in four people over the age of 65 fall each year, and more than 95 percent of hip fractures are caused by falling. However, there are many small, easy tips caregivers and loved ones can take to help the seniors in their lives avoid unnecessary falls.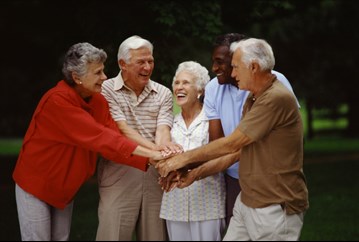 Avoid Slippery Surfaces
Place non-slip rubber mats in the shower, in the bathroom, in the kitchen or anywhere there is a slippery surface in the elderly person's home. Have grip bars or handrails placed by the toilet and in the shower as well to help seniors maneuver their way around these areas where excess water can attribute to a fall. A shower chair or step-in tub can also be helpful in helping reduce falls.
Keep it Bright
Make sure there is ample lighting in and around the senior's home, and add automatic lighting in hallways and bathrooms in case they need to get up in the middle of the night when it's dark. Keep in mind as they age, eyesight might change, further hindering seniors' abilities. Other visual factors such as tint-changing lenses or the use of bifocals can alter a senior's visual perception, making falls more common. Make sure they stay current with their regular optical check-ups.
Help Them Stay Active
With age, people can lose balance and coordination due to inactivity. However, according to the National Council on Aging, programs such as A Matter of Balance, Stepping On and Tai Chi can help elderly adults learn how to avoid falls by increasing activity.
Clean it Up
Keep areas where the seniors will be walking regularly clear of items on the floor that they could trip on, and keep counter tops clutter-free in case they need to quickly grab on for balance. Keeping the home free of excess clutter is especially important in and around walkways such as stairs and hallways. It's also important to keep tripping hazards such as loose floor rugs and cords out of the way.
If the Shoe Fits
Elderly people that don't leave the house often may be inclined to shuffle around the house in slippers or socks. However, both can prove dangerously slippery! Make sure slippers have non-slip grips or make sure the senior wears a non-slip yet comfortable shoe to help them avoid falling.
There are a number of reasons why falls increase as people age — including failing eyesight, medications that can cause dizziness, loss of coordination, and loss of other functions and limitations of mobility due to stroke, arthritis or other disease. If you notice that an elderly loved one in your life is continuing to experience falls, talk to them about how they are feeling and offer to take them to their physician.