Giving the Gift of Companionship: To Pet or Not to Pet
Thursday December 21, 2017
Categories:
The holidays are the season of giving… and pets are a great way to brighten the spirits of any senior. However, before giving a pet as a gift, loved ones and caregivers should consider the capabilities of the recipient. Fellowship Square offers tips and advice to answer the question, "Should you get a pet for a relative over 60?"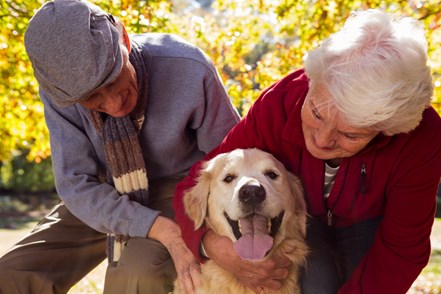 Do They Want One?
Loved ones and caregivers might assume that giving a pet as a gift will alleviate any loneliness a senior may be feeling. However, it's important to understand whether or not the senior is actually lonely and really wants a furry companion in their life 24/7. Just because a senior is living alone, does not mean he or she is lonely. Understanding the needs and desires of a senior prior to gifting a pet is crucial.
Can They Take Care of a Pet?
Many seniors are still very active and highly engaged in everyday activities of life. However, as they age, some may struggle with even simple daily tasks to take care of their own selves. Adding a pet to take care of as well can prove overwhelming for seniors as they age or as they progress into diseases such as dementia or Alzheimer's, where they may forget to feed or walk the pet. Gauge the senior's health, wellbeing and capabilities prior to gifting a pet.
Do They Have Room for a Pet?
Some seniors may be living in smaller quarters or assisted living communities, so it's important first to determine whether community allows pets. Next, it's a good idea to determine if their home is set up for pets – does the pet have access to "come and go" as he pleases to do his business or will the senior have to be responsible for taking the pet out for a walk to get exercise and also relieve himself? This could prove logistically challenging, but also tiring for an ailing senior.
While there are some serious things to take into consideration before gifting a pet to a senior, there are also some very real benefits. Pets not only give elders a reason and an opportunity to get out and about more (for those all-important walks for both senior and pet) and encourage the natural social interactions that friendly pets seem to invite, they also have some proven health. US News and World Report noted in a recent article that according to a study in The Gerontologist, positive effects of pet ownership for seniors include lower body mass index, fewer reported doctor visits and less sedentary time.
Pets are a wonderful gift for seniors – as long as the senior is prepared for the responsibility, time and commitment that go along with pet ownership. It's best to discuss the idea with the senior versus surprising a loved one with a pet of which they might not be prepared to take ownership.