Debunking Myths about Assisted Living and Retirement Communities
Tuesday December 26, 2017
Categories:
When it comes time to move into an assisted living facility or retirement community, some seniors have some preconceived notions about these housing options. Whether stemmed from fear or anxiety or even scenes from movies, these connotations are actually often untrue and sometimes totally far-fetched. Today's assisting living facilities and retirement communities offer so much more than care for seniors. Fellowship Square sets the record straight about these often-negative myths.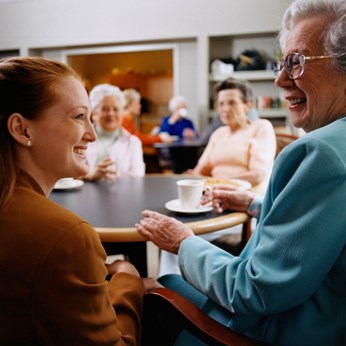 MYTH: Assisted Living Homes are For Sick Residents
TRUTH: Assisting living and retirement communities are designed to help seniors achieve the best quality of life in their golden years. Whether that means offering the healthcare or daily assistance seniors need while still providing them with their independence to enjoy life at this stage or simply offering a community of similar-aged people with activities geared for this stage of life, these living options are meant to help seniors make the most of life at their age.
MYTH: Seniors lose their independence when moving into an assisted living home or retirement community.
TRUTH: These living options provide only the amount of assistance or care that is needed and requested of the resident. Many retirement communities and assisted living facilities offer independent living options that give seniors their freedom, while still providing amenities that they both need and enjoy — from dining options to fitness facilities and more. Some seniors may simply require some housekeeping help while other may require more daily assistance, but each individual's needs are considered in an assisted living facility.
MYTH: Only the priciest homes have the best service.
TRUTH: The old adage "you get what you pay for" isn't always the case. It's about finding the right home and needs for each and every individual senior. Some require more assistance, while some are looking for a community of people to enjoy their golden years with. Some seniors may feel more comfortable in a smaller facility, while others may thrive with all the bells and whistles, activities of a larger community. Price of course will be a considering factor when looking at options, but it doesn't always mean that a high price equates to the best care and a lower price means lesser care. Be prepared with a "wish list" of wants for the senior's new home and ask questions when touring any facility.
MYTH: Senior living facilities are lonely and depressing
TRUTH: With the amount of activities and offerings at assisted living facilities and retirement communities — from fitness options to group game nights and more, these living options are anything but lonely or depressing. The group living atmosphere encourages a sense of friendship and community, and caregivers generally care for the residents of these homes, ensuring that their states of mind are positive as their age.
While there may be other connotations senior have about these living options, it's best to simply "see for yourself." Every assisted living and retirement community has a unique sense of community and offerings. It's ultimately up to the individual and his or her loved ones to decide the best new living options based on their needs and preferences.