How to Leave a Legacy
Thursday December 28, 2017
Categories:
As seniors age and move into other phases of their life, whether they are hospitalized or experience memory loss that prevents them from connecting to their loved ones as they used to, leaving a legacy becomes an important rite of passage. Family and friends that the seniors will leave behind one day want more than photos to hold on to as they grieve. Fellowship Square offers ideas for leaving behind a legacy for loved ones to enjoy for many years.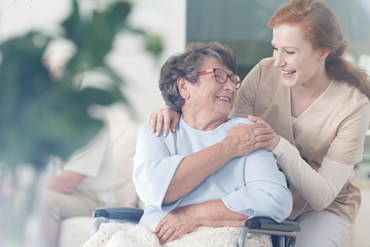 Teach a Special Trait — Finding a way to share and pass on a hobby, such as woodworking, knitting, scrapbooking or pottery work, is a wonderful way not only to leave a legacy but also bond with loved ones in life. Whether sharing a talent, secret recipes or a no-fail strategy for a game of chess, passing along a skill is something that the family can cherish while the senior is still around — and long after.
Share Your Story — Recorded memories of life experiences from childhood through adulthood are precious to family members left behind. Not only will these stories be passed down to family members for generations to come, the sound of a loved one's voice forever preserved can also be very comforting in difficult times.
Grow a Green Thumb — Much like sharing a skill, growing a garden together involves special bonding time that will equate to precious memories as part of the seniors legacy as well. Planting and nurturing an herb or vegetable garden, or planting flowers or a tree is another great way to create a lasting memory.
Make a Video — Much like a recording that brings a special senior's voice back to life, video brings to life all the mannerisms and intricacies that made him so special. The video can be short and simple, it can be address family members individually or as a whole. Regardless of how the senior chooses to create a special video memory, it will certainly be cherished by loved ones left behind.
Pass Along an Heirloom — An antique piece or furniture. A special necklace. A family photo from another generation. Passing down heirlooms to younger family members gives them a second life — and further creates the senior's legacy.
As seniors consider how they can leave their mark on the world before they pass, it's important to consider that family and friends will cherish their memories with them more than anything. Make the most of each moment with family and friends, and let them know how much you care — that is the best legacy of all.