Fellowship Square Blog Art and Soul: Art Therapy for Seniors
Friday December 29, 2017
Categories:
Art is a way to express oneself in a number of mediums. Many seniors may have enjoyed art as a hobby or even a career throughout their lives, and into their elder years, art can actually have many positive benefits. Not only does creating art leave behind a lasting masterpiece, the process of creating a projects from beginning to end can be very rewarding for seniors. Art can be used as therapy in many ways, and with many beneficial results to increase seniors' quality of life.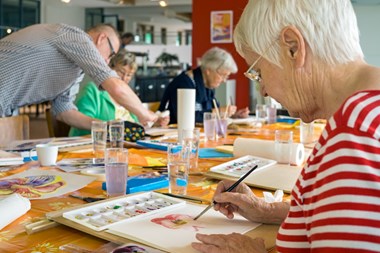 Creates Bonding and Social Opportunities — Whether it's painting, sculpting, knitting or woodworking, art is a hobby that can be done alone or with a group. It is also something that can be taught to the younger generation, so it's a great way for seniors to bond with their children or grandchildren. It is not only a great bonding time for family, loved ones and social way to meet new friends, it can be done to pass the time of solitude for seniors as well.
Improves Cognitive Skills — Not only does creating art in a group atmosphere allow for social interaction among seniors, it allows them to discuss their art or art culture in general — a positive way to communicate with others while keeping intellectual stimulation at the forefront. It also promotes memory health and allows seniors to expand their minds through different art forms.
Improves Physical and Motor Skills — Using hand-eye coordination via purposeful movements improves fine motor skills and decreases pain, according to certain studies.
Decreases Stress and Depression — Participating in art programs or simply starting up a new artistic hobby relieves stress, anxiety and feelings of confusion for many seniors.
For seniors who have never dabbled in the arts, there are a number of ways to get creative. Starting with an adult coloring book and colored pencils, taking up flower arranging or sewing or doing abstract watercolors are all easy and fun ways to get started with an artistic new hobby. To find inspiration, go online or visit an arts and crafts store — there are countless ways to get creative and incorporate art into everyday life.