Motivational Messages: Making God a Part of Every Day
Monday December 04, 2017
Categories:
Whether a caregiver of an aging or ailing loved one or a senior who has experienced loss or illness, getting older can bring a new set of life challenges to families of all ages. As a Christian-based living community for seniors, Fellowship Squares believes in the power of God for healing, connecting with loved ones and living a faith-based life. As families navigate the unchartered waters of family members aging, moving into assisted living facilities or getting diagnosed with diseases such as dementia, Fellowship Square advises that forming or keeping a relationship with God can be beneficial during these difficult times. To form a connection with God, consider these simple tips: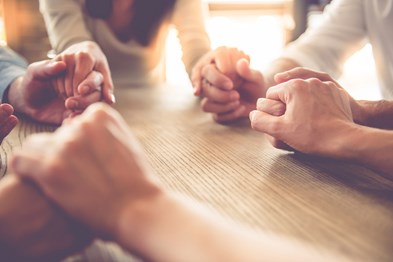 Pray Together
As families begin to experience loss of family members due to age or illness, praying together for their recovery, health or peaceful passing can be a powerful bonding method. Whether sitting together quietly in prayer or attending a sermon together, connecting through spiritual belief should not be underestimated.  
Keep Messages Positive and Spiritual
As a caregiver tasked with overseeing an aging loved one's move into an assisted living facility or other life changes that are sometimes both unexpected and initially met with resistance, it's important to create mantras, or short positive messages, to help everyone through the situation. The message can be something as simple as Philippians 16: "Have patience. God isn't finished yet." For a time when seniors may be feeling anxiety about their health or life changes, consider Isaiah 41:10: "So do not fear, for I am with you; do not be dismayed, for I am your God. I will strengthen you and help you; I will uphold you with my righteous right hand." In times of needing strength, think of Psalm 62:1-2: "Truly my soul finds rest in God; my salvation comes from him. Truly he is my rock and my salvation; he is my fortress, I will never be shaken."
Be Thankful
Instead of focusing on the challenges, the fears, or the anxiety about situations that are often out of the control of the people involved, readjust the focus to the positive aspects in life. Giving thanks is an important way to connect to loved ones as well as the holy spirits.
Start and End the Day with God
Making God a part of every day can add strength, love and quality to any stage of life. A simple acknowledgement, prayer or thanks at the beginning and end of each day can work wonders in easing the mind from the troubles and worries that plague caregivers and aging seniors alike.
Remember, it's never too late to strengthen a relationship with aging family members. And it's never too late to form a relationship with God. God is always ready to accept his people.