5 Tips for a Healthy Heart
Friday February 24, 2017
Categories: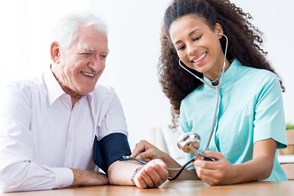 Heart disease is a serious condition. According to the CDC, heart disease is the leading cause of death for both men and women. Now for the good news: heart disease can often be prevented by making simple lifestyle changes. In honor of American Heart Month, here are five tips for a healthy heart.
1. Eat More Produce — Eating more fruits and vegetables, which are good sources of vitamins and minerals, low in calories and high in dietary fiber, are good for the heart. These foods also help the body feel fuller longer. Fruits and veggies are perfect on-the-go foods, and are ready to eat as is or with little preparation. Keeping fruit in plain sight, such as in a pretty bowl on the kitchen table, will serve as a trigger to reach for those first when it's time for a snack. Cut up veggies served with hummus or a low-fat dip is another easy and healthy snack option.
2. Limit Unhealthy Fats — The American Heart Association recommends limiting saturated fat to less than 7 percent of total daily caloric intake. This can be done by reducing the amount of butter or margarine added to food while cooking or replacing it with better options. For example, low-fat Greek yogurt can be used in place of butter or sour cream on a baked potato or a chicken taco. Avoiding trans fats is also good for the heart.
3. Choose Whole Grains — Instead of reaching for white bread or pasta, consider substituting replacing them with whole grain versions that are fiber-dense and filled with other nutrients that can help regulate blood pressure and heart health, according to the Mayo Clinic.
4. Get Active — According to the Sarver Heart Center at The University of Arizona, walking is a great activity for overall health. Regular exercise is not only good for the heart, it can also help control weight issues, and is considered to be one of the best treatments for anxiety and depression. Regular physical activity can also help reduce the risk of developing conditions that put a strain on the heart such as high blood pressure and high cholesterol.
5. Get Enough Sleep — Resting is often underrated, but according to the Mayo Clinic sleep deprivation can lead to higher risk of obesity, high blood pressure, heart attack, diabetes and depression. While every individual's internal clock is different, most adults require between seven and nine hours of sleep nightly to wake feely refreshed and recharged. So get some shuteye!
Remember that self-care is important regardless of age. Taking small steps, like the ones above can lead to a healthy, happy heart and a long, happy life!