Think Small: Downsizing Tips for Seniors
Monday August 07, 2017
Categories:
When it comes time for seniors to move into a smaller home or an assisted living facility, downsizing becomes a priority. But how does one fit a lifetime of memories and, well, stuff, into a space with less storage? Oftentimes, downsizing can be liberating, freeing, and even a fun and meaningful way to bond with family members and loved ones. Make downsizing a positive experience for seniors with these tips.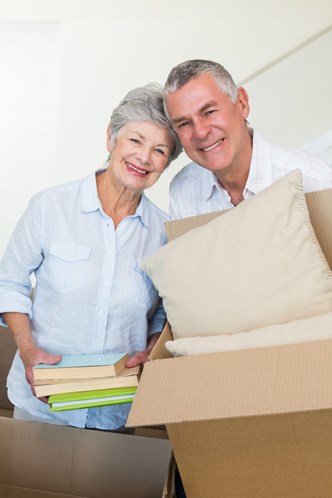 1. One Step (Ahem, Room) at a Time
For seniors that have been living in the same home nearly their entire adult lives or that have multiple homes, downsizing can seem an overwhelming task. However, these five tips can help minimize the stress that downsizing can sometimes cause an elderly person or couple.
2. Respect the Sentimental Value
The stress of downsizing often isn't caused by the actual physical aspect of moving to a smaller or different space, but rather the sentimental value that the home itself and the items within hold — precious memories of which seniors may have a hard time letting go. That's perfectly understandable and should be respected. While giving seniors the time they need to process the decision to downsize and recognize that they can't keep everything, it's also important to prioritize the most special pieces (a special antique vanity table that has been passed down for generations, for example, or a rocking chair they used to rock their grandbabies to sleep) that can likely make the move to the seniors' new home.
3. Keep it in the Family
For pieces that are too large to be accommodated in the new space, suggest they be handed down to other family members or loved ones that can give it continued life and preserve the memories that make it so special. Sentimentally, this can offer the seniors solace and they will enjoy seeing the piece in its new home (at a grandchild's house, for example) or maybe even being used for a new purpose.
4. Preserve the Memory
If a piece must go, such as a beloved sofa, suggest having the senior couple sit on it for a special photo. Then print and frame it to hang in their new space – above a smaller sofa, perhaps? Taking and printing pictures of the special items can serve as wonderful memories the pieces held while still keeping them close at hand (and heart).
5. Focus on the Necessities
When it gets down to the "nitty-gritty" sometimes it's simply time to prioritize what is really going to be used and needed and what is only holding sentimental value. If the seniors are truly having a difficult time letting go, suggesting a storage unit as an option for the interim. Once the loved one is settled in their new space and comfortable with the new home, the topic of what to do with the items in storage can be readdressed. Some of the anticipation of a move can also make anyone a little more apt to want to "hang on" to those familiar items that served them so well over the years.
Carefully guiding your loved one through a downsizing move can be a bonding experience. Take the time needed to make it a stress-free and even bonding time for the entire family.