Connecting with Dementia
Monday September 18, 2017
Categories:
It can be a difficult time for an adult child when their parents begin to experience memory loss and signs of dementia, especially if these symptoms are undiagnosed. However, it's important to remain close and connected to the family member who is suffering from the symptoms in order to guide them through their possible diagnosis and help them navigate their daily activities, as they to adjust to major life changes due to memory loss, dementia or the diagnosis of Alzheimer's.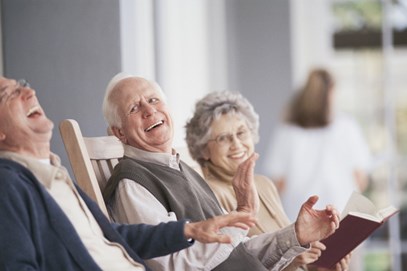 Be Patient — Keep in mind that while you may feel frustrated that your parent can no longer do some of the things he or she used to do with ease or enjoyment, your attitude towards each circumstance can go a long way in making the situation easier for both of you. Use patience and understand that even small tasks might take more time going forward. For example, build in extra time prior to going to an appointment, and be prepared to explain things in simple and calm manner, sometimes many times over. Keeping your tone soothing and gentle, and if the parent seems to be getting too upset, redirect the conversation.
Break it Down — When it comes to big discussions like preparing a parent for downsizing from their home or giving up their ability to drive, keep the information straight forward and direct, but without sounding condescending or talking down to your parent. Remember that these are major life changes for a parent that may not understand why they are happening, so it may help to break the information into smaller pieces to avoid having the parent feel confused and overwhelmed. While you may begin playing a more active role in guiding the parent as the disease progresses, always speak with love and respect — in your words and body language. Seniors can sometimes have a difficult time with their adult children treating them like a child — even if they don't suffer from dementia — so take caution with your approach and tone.
Create a Routine — As memory loss continues, you may not be able to do the things you once did to bond with your parent suffering from the disease, such as traveling, but that does not mean you can't enjoy fun times with your parent. As you begin to create a routine for your parent, such as having meals and performing hygiene tasks at the same time daily, build in some activity that you can do together. Whether it's taking a walk, participating in a favorite hobby such as knitting or scrapbooking, or any other activity, be sure to include elements of fun and relaxation into each day to ensure you continue to connect and relate to your parent, while eliminating some of the stress of the daily routine. 
Do Your Research — It's easy to take offense to something a parent with dementia might do, say or forget to say. However, having the understanding that it's the disease at fault, not the parent goes a long way in staying calm during these moments. Reading up about memory loss, dementia and Alzheimer's, talking to others or even joining a support group for family members of those suffering can help put the sometimes hurtful situations into perspective. Don't be afraid to reach out to seek help of your own as you are helping your parent.
Pray Together — The power of prayer and spiritual healing should never be underestimated. Attending service or simply praying together can be a wonderful way to connect during difficult hurdles of memory-loss related diseases. Prayer allows quiet togetherness, without the challenges of hard discussions, decisions and even just the daily monotony of the disease. Use these simple moments to share an embrace, sit hand in hand or tell your parent how much you love and care for them.