Eliminating the Stress of Vacationing with Dementia Sufferers
Monday September 04, 2017
Categories:
As children go back to school, it's the perfect time for seniors to sneak away for a quiet vacation. However, when traveling with a loved one that suffers from the onset of dementia, going somewhere new or unfamiliar can often lead to feelings of anticipation and stress, not the feelings of relaxation typically associated with vacation time. However, dementia doesn't have to curtail travel plans! With a few careful planning strategies, and some love and support along the way, you can still have a wonderful getaway.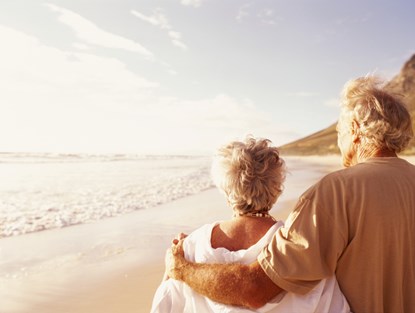 Prior to picking a destination, consider the abilities, needs and, of course, safety of the loved one with dementia. Always choose the method of travel and destination that would cause them the least amount of anxiety or undue stress, while ensuring they are as comfortable as possible — physically and mentally.
Select location destinations that are familiar or loved by the dementia sufferer. Considering visiting family, staying at a hotel you've regularly frequented in the past or going somewhere that may seem familiar to the loved one because they have studied or researched it in the past or have always considered it a "bucket list" destination.
In addition to sightseeing, ensure that a familiar routine is maintained throughout the vacation, even if that simply means having the same breakfast as the loved one might have on a daily basis at home, or eating meals at the same time. It's also important to ensure that all medications are being properly administered on a regular routine basis.
Build in rest time, and take tours or make plans when the dementia sufferer is most relaxed, well rested and at ease. Short sojourns for exploration and even the length of the vacation in general are best. Make sure the dementia sufferer knows they can tell you when they need to take a break or return to the hotel for some downtime. Be sure to ask them specific questions to check in on their comfort levels often.
Travel or staying in unfamiliar locations can cause dementia sufferers to wander, according to the Alzheimer's Association, so make sure the dementia sufferer is always accompanied by a caregiver or loved one. Never leave them alone in an unfamiliar area, even just to use the restroom. It's also a good idea to alert hotel staff of your loved one's condition so they can accommodate any special requirements to keep your loved one safe and comfortable during their travels.
Finally, enjoy your time together! Take lots of pictures so you and your loved one can look back on the adventure together with fond memories and stories to share.