Fellowship Square Announces Launch of Fellowship Square University
Tuesday January 02, 2018
Categories:
On February 5, 2018, Fellowship Square officially launches the new Fellowship Square University program, offering residents its first educational semester for Spring 2018 — with nine-week courses divided into two four-week learning blocks with a one-week break in between. Course offerings include Computer 101, Poetry and History, including the Roaring 40s, Founding Mothers of the United States and Greek Mythology. The ALLE online learning program will supplement course instruction.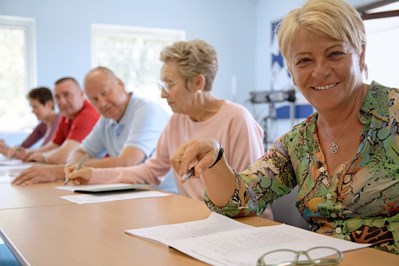 The resident education program is the brainchild of Activities and Events Coordinator Amy Borders and Director of Resident Life and Campus Information Coordinator Jacque Owens as an answer to the call for more educational opportunities. "Our residents have a passion for lifelong learning, and all our current educational programs are very well received and highly attended," Amy says of the program's development. "We sent out a survey to our residents regarding their desires and the response for continued education opportunities was overwhelming." She notes that the addition of the program for residents also keeps them competitive with offerings at other independent and senior living communities. "We are constantly looking to what we can do to offer our residents the best opportunities we can," Amy adds.
To kick off the program, a Fellowship Square University Pep Rally is scheduled for Saturday, January 27th at 10:30 a.m. featuring cheerleaders, games, food and additional sign-up opportunities. Residents' family and friends are welcome to attend. For more, visit www.fellowshipsquareseniorliving.org.