Bringing the Spirit of the Season to Seniors
Tuesday December 11, 2018
Categories: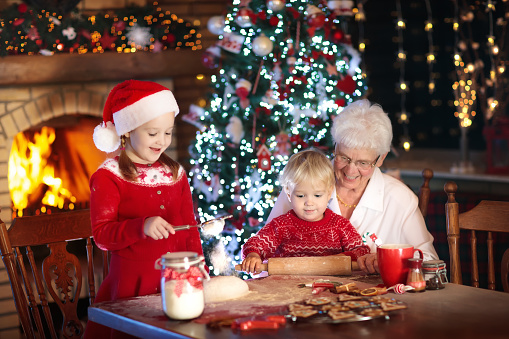 Caregivers and family members that assist with seniors whether they are in assisted living or still on their own are such important people in the seniors' lives. They provide nurturing, love and all the things that help ease the lives' of ailing seniors. During the holidays, they can also be instrumental in making sure that the seniors in their lives are enjoying this festive season. Fellowship Square offers tips for caregivers and loved ones to help bring the spirit of the season to seniors!
Deck the Halls | A quick spirited sprucing up of a senior's home can make them feel festive all season long. A wreath for the door, some scented pinecones in a decorative dish for the table or even a little Christmas tree can go a long way towards lifting the spirits of a senior this season.
Bring the Celebration to Them | Many seniors that suffer with dementia and Alzheimer's Disease may experience stress and confusion during the holidays, especially if it requires them to leave their familiar surroundings. Instead of taking them from their element, bring the merriment to them! It's always fun for seniors in a community such as Fellowship Square to receive visitors, especially if they are bringing with them Christmas cheer!
Settle in for a Long Winter's Nap | Instead of having seniors ensure the hustle and bustle of large holiday gatherings and activities around town, focus these celebrations on simple get-togethers. For example, have a "night in" — pop some corn, heat up some hot cocoa and watch Christmas movies — old and new — together. This is a great way to bridge the gap between generations as well. 
Attend Christmas Mass | There is something so spiritual and moving about a midnight mass or a specially dedication Christmas service. If the senior is up for it, try to make this a priority this season. Especially during the holidays, when the stress of the season may weigh heavy on seniors or remind them of loved ones who have passed, the word of the Lord is ever strengthening and comforting. If the senior prefers to worship at home, pray together before a special Christmas feast or spend some time reading scripture together that speaks to the season. 
Share the Love |  Remembering the true reason for the season may be the simplest way to spread cheer to seniors this holiday. Reminding seniors what an important role they play — and simply saying "I love you," — is certain to make a senior's holiday merry and bright!