Tips for Recognizing Anniversaries and Birthdays with a Dementia or Alzheimer's Sufferer
Tuesday July 17, 2018
Categories: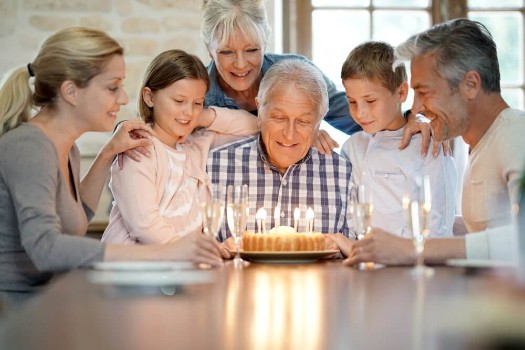 Celebrations bring joy to the everyday. But they can also cause anxiety and stress for the elderly that may not understand the purpose of the celebration due to dementia or Alzheimer's disease. However, that doesn't mean all celebrations should be ignored. Fellowship Square offers tips to honor special anniversaries, birthdays and holidays with senior loved ones.
Keep it Simple — Celebrations don't have to be a "big production." Large groups of people and big, fancy celebrations may actually cause more confusion than joy to the dementia sufferer. Don't spend a lot of money on lavish gifts, decorations, or food. Maintain focus on the reason for the celebration itself. If it's Valentine's Day, a simple delectable piece of cake or a few decadent pieces of chocolate can be enough. Reading cards out loud together can help seniors understand the celebration (with the help of caretakers and loved ones). For a birthday, one candle on a cupcake or even a scoop of ice cream.
Keep it Small — Large crowds and loud noises can sometimes upset Alzheimer's and dementia sufferers, causing them more distress than enjoyment. Instead of going to a loud restaurant or hosting a huge party, invite a few close friends and family members over to honor special days. Make a favorite meal, share some favorite memories, and keep it short. 
Be Realistic — It's important that those hosting the celebrations for anniversaries or birthdays be honest with themselves about the state of the health (physically and mentally) of their senior loved ones and plan the celebration accordingly. Keeping celebrations small, simple, and short is a good start. Pay close attention to the seniors' reactions during the celebration and stay close to "walk them through" any questions they may have about the party.
It's important to continue celebrating the monuments and milestones of a wonderful life. However, Fellowship Square advises keeping the seniors' state of mind and capability at the forefront so that it can be a joyous occasion for all ages!