The Benefits of Yoga in Honor of National Yoga Month
Monday September 03, 2018
Categories: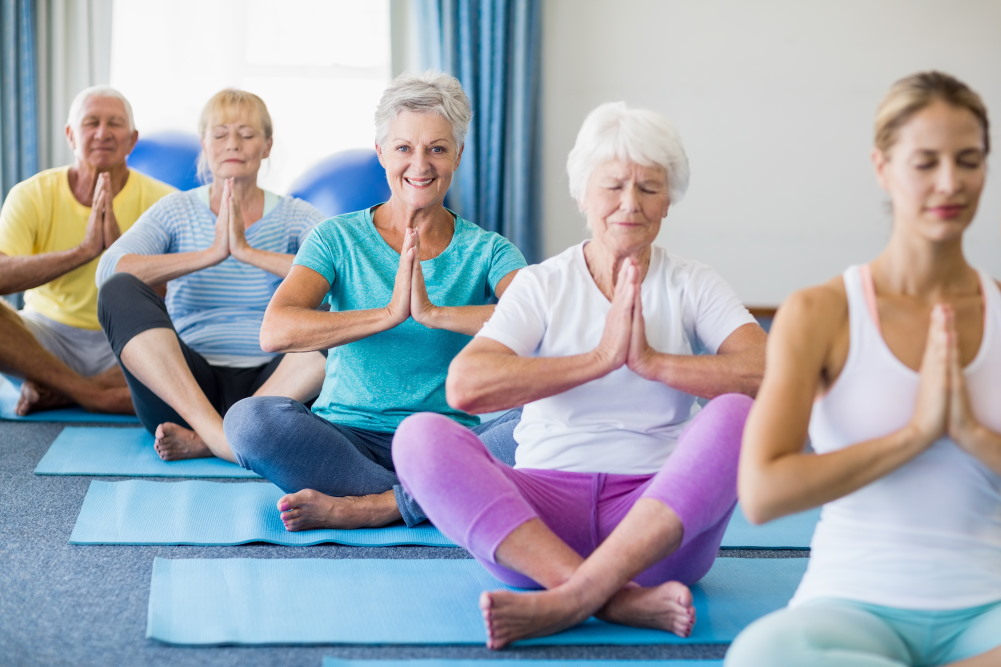 September is known as National Yoga Month. The practice is beneficial for seniors in so many ways — mind, body and spirit. In celebration of National Yoga Month, Fellowship Square shares the benefits seniors can enjoy from regular yoga practice, as well as some beginner moves that can be done just about anywhere.
According to AARP, when cardiologist Dean Ornish, M.D. made the claim that yoga and meditation, combined with a healthy diet and regular exercise, could reverse heart disease, the yoga craze for seniors exploded. That was nearly 40 years ago, and yoga has proven that it's not merely a trend. One of the greatest benefits of regular yoga practice is the effect it has on stress and hypertension, often leading to the need for less medication. With regular incorporation of three basic parts of yoga practice — postures, meditation and breathing — blood pressure can also be significantly reduced. The slow, controlled breathing associated with yoga practice also decreases the nervous system activity, according to AARP. This helps manage blood pressure levels.
Yoga helps to protect joints in elderly people whose joints may not be as fluid as they once were. This helps protect against carpal tunnel syndrome and arthritis. Yoga poses can also help seniors tone muscles and attain better balance, which can help reduce the risk of falls in senior citizens. A study in the 2016 International Review of Psychiatry even reported that yoga can help improve brain function in seniors. The report found that people who practiced yoga relaxation techniques, such as alternate-nostril breathing, for 30 minutes had immediate beneficial effects on brain function and performance. The yoga method of focusing on the breath while coordinating it with movements assists with keeping the mind clear and engaged. Finally, another wonderful benefit of yoga is the mood-boosting qualities. The combination of breathing, meditation and movements helps create a sense of wellbeing, enhances mood, and reduces anxiety by boosting levels of the brain chemical GABA, which assists in calming the nerves.

Beginning yoga poses for seniors include:
Tree Pose (bringing the sole of the foot to rest on the other leg, then switching legs)

Chair Pose ("sitting" against a wall, or bending the knees into a "chair" position)

Bridge Pose (starting position lying on back, then lifting the pelvis)
Fellowship Square invites its residents and all seniors to give yoga a try. There is no better time than during National Yoga Month!