Holiday Gift Ideas for Seniors
Monday December 02, 2019
Categories: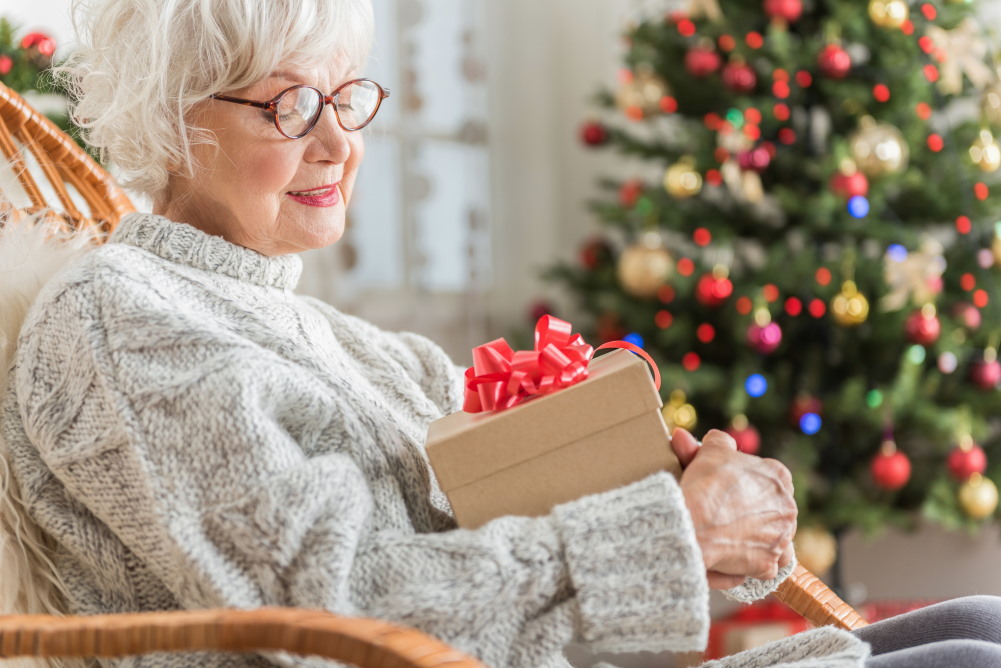 The season of gift giving is officially here! With Black Friday and Cyber Monday rapidly approaching and Christmas a month away, 'tis the season to holiday shop! While gift giving is fun for everyone, it's important to keep a few things in mind when shopping for seniors this season. Fellowship Square offers the following tips.
Consider Space — Many seniors have downsized from their family homes or are living in second homes, apartments, condos or senior living housing, which may have limited space. Consider this when giving gifts that take up space or add to clutter to their home. Also, at this point in their lives, most seniors are looking less to collect things and more to begin passing things down to family members and loved ones. Unless seniors are actively collecting items, avoid giving the type of gift that might end up simply just "taking up space."
Give an Experience — From tickets to a play to a gift card to an airline or cruise ship, giving seniors the gift of an experience will also bring many memories — a secondary bonus gift that doesn't cost anything extra! For seniors that love to get out and explore, consider their favorite things or their "bucket list" experiences when giving this type of gift. Be wary of gifting something that has a hard date (such as actually purchasing airline tickets versus a giving a gift card)until it's for certain that the senior will be able to attend at that time, as gift such as these are rarely refundable. 
Create a Special Senior Day — Give the gift of time and love this year by planning a special day out with a beloved senior. For example, take Grandma out to get a massage, to have nails and hair done, and then going to a special tea time offering, go shopping or take in a movie. Go golfing or fishing or take Grandpa to a football game (or simply go grab some burgers, cold beers and watch some at a favorite sports bar). It's not where you go or what you do, it's about the quality time spent with special seniors this holiday.
Enjoy Holiday TraditionsTogether — Instead of giving an actual gift, help seniors decorate their home, trim their tree, put lights up; go out for hot chocolate or coffee and drive around to look at Christmas lights; or attend a holiday festival or parade to get in the holiday spirit! And come Christmastime, attend a special holiday mass with seniors to really take in the true spirit and reason for the season!
Keep in mind that many seniors value the present itself less than the significance behind it — and mostly, they value the family member or friend actually giving the gift. If possible, the gift of time and company, or offering help and assistance to a senior this year could be the most wonderful gift of all!