Motivation through the Word of God
Tuesday August 13, 2019
Categories: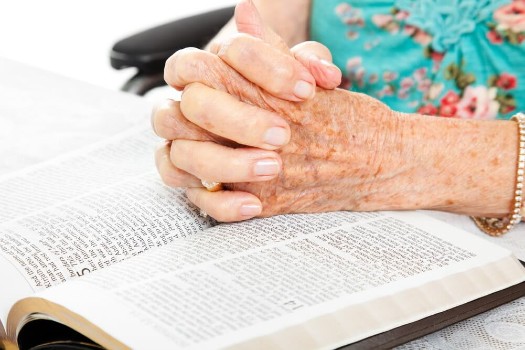 Throughout life, in good times and in hard times, in youth and adulthood, God is there to help guide and lead. Fellowship Square fully believes in the power and comfort that can be found in the hand of God and invites its residents and all seniors to reach out to God when in need of extra encouragement or strength. For those that are feeling scared or lonely at times, they might find comfort in the fact that they are never alone — as God is always by their side. Here are some motivating and encouraging Bible verses that can help inspire strength in all children of God. 
According to Deuteronomy 31:6 "Be strong and courageous. Do not fear of be in dread of them, for it is the Lord you God who goes with you. He will not leave you or forsake you."
And Isaiah 41:10 reveals, "Fear no, for I am with you' be not dismayed, for I am your God; I will strengthen you, I will help you, I will uphold you with my righteous right hand."
It might be helpful for seniors to use this quote from Exodus 15:2 as their motivational mantra: "The Lord s my strength and my son, and he has become my salvation; this is my God, and I will praise him, my father's God, and I will exalt him."
Joshua 1:9 states, "Be strong and courageous. Do not be frightened, and do not be dismayed, for the Lord your God is with you wherever you go."
If seniors are feeling weak, they might find solace from 2 Corinthians 12:9, which states, "But he said to me, 'My grace is sufficient for your, for my power is made perfect in that weakness.' Therefore I will boast all the more gladly of my weaknesses, so that the power of Christ may rest upon me."
When facing a difficult time, seniors may also find comfort in God's word that he is still at the helm of all things, so his children can find peace. Stated in John 16:33, "I have said these things to you, that in me you may have peace. In the world you will have tribulation. But take heart; I have overcome the world."
Loving God and giving one's heart and soul to him may be simply be one of the greatest ways to feel the impact of God's strength, motivation and love. According to Mark 12:30, "And you shall love the Lord your God with all your heart and with all your soul and with all your mind and with all your strength."
When seniors are in need of motivation, strength, love or companionship, Fellowship Square encourages them to seek it out in God. By saying prayers, reading scripture, attending a sermon or a bible group, seniors can find the comfort they need in the Lord.