Spooktacular Fun – Tips to seniors can get into the holiday "spirit"
Tuesday October 26, 2021
Categories: General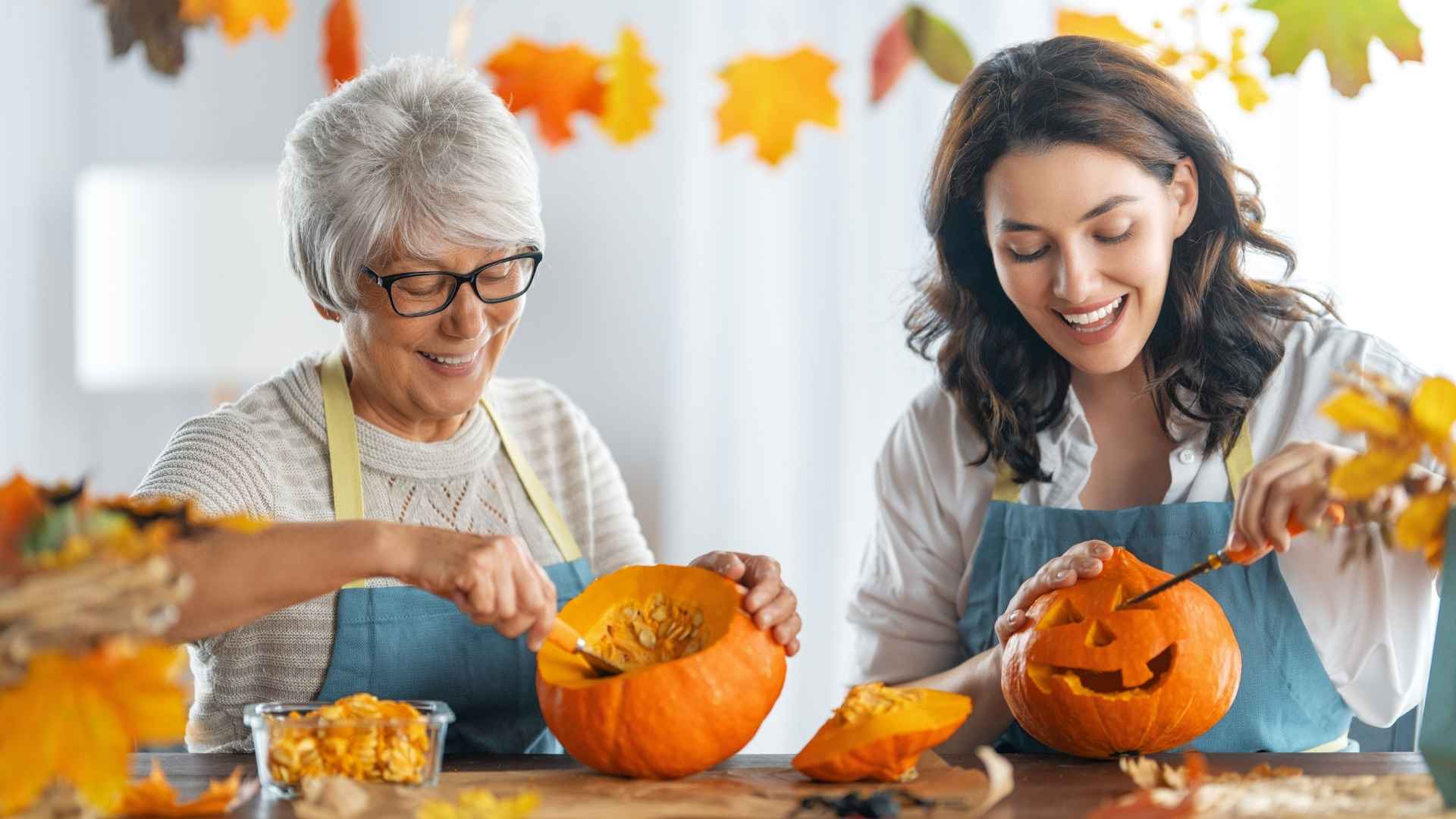 It's spooky season! And with Halloween just around the corner, with all the other fall and winter holidays to follow, it's time to get into the holiday spirit! Halloween is a fun way to kick off the holiday season and for seniors, this is a great time to reconnect with friends and get together with family. Fellowship Square suggests some fun tips to get seniors in a "Spooktacular" mood this month.
Decorate —
Sometimes all it takes is some festive fall or Halloween décor to get seniors in the mood for a little seasonal fun. There is no shortage of Halloween-themed décor from discount stores to department stores. Thrift stores are another great place to discover some great Halloween décor finds on a budget. Beyond ghosts, skeletons, spiders, and witches, Halloween décor including pumpkins, leaves, and hues of orange, red, yellow, brown, and green can remain in place through Thanksgiving!
Go to a Pumpkin Patch or Attend a Fall Festival —
Nothing like a festival or fair to evoke the feelings of fall. There are numerous farms around the valley and the state that host events featuring pumpkin patches, produce picking, mini carnivals, and entertainment for the whole family. Don't forget to bring some pumpkins home to carve and then roast some seeds for snacking.    
Host a "Trick or Treat" Tasting —
Love Halloween candy? Or fall-themed craft beers? Wine? Why not plan an intimate gathering with family and loved ones centered around favorite fall "treats?" Select a theme such as Halloween candy and invite guests to bring a bag of their favorite candy or a homemade version of their favorite fall dessert. Or for craft beer lovers, fall offers an incredible array of seasonal choices produced by local breweries right here in the valley. Fall wines paired with bruschetta boards and charcuterie platters are all that's needed to host an informal wine tasting event 
Get the Grandkids Involved —
Who loves Halloween more than anybody? Kids! Halloween is a great time to spend bonding with the grandkids. Seeing the holidays through their eyes is a wonderful way to become reenergized about the fun and festivity around special occasions like Halloween. So invite them over to help make decorative ghosts (a plain white sheet, some twine, and some ping pong balls are all that's needed to create some simple ones to hang around the entryway), carve pumpkins or bake some fall-inspired goodies and seniors will be in the "spirit" in no time!
Fellowship Square invites seniors to celebrate little moments with loved ones throughout the season. Honoring holidays doesn't have to involve a lot of stress or fanfare. Simply being together and enjoying family and friends is what really makes any occasion special.