Lighten Up – Three easy Spring and Summer meal ideas
Monday May 10, 2021
Categories: General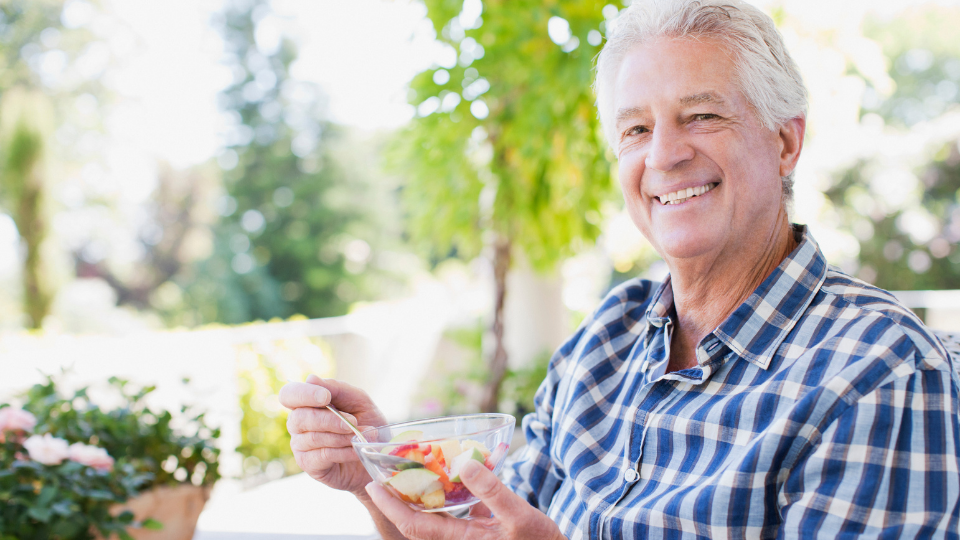 It may still officially be spring but with triple-digit temperatures looming in the very near future summer is right around the corner. With the warm weather seasons, it's time to lighten up in the kitchen (and make meal time a breeze!).
Fellowship Square offers seniors easy seasonal meal time ideas.
Ditch the Heat —
Wintertime calls for soups on the stove, stews in the crockpot, and casseroles in the oven, but warm weather meals require no added heat (especially coming from the kitchen!). A delicious and filling spring salad can come together with no cooking at all. Think of building a summer salad in layers — with greens on the bottom, fillings next, toppings, and then dressing. "Fillings" can include anything from last night's leftover grilled chicken diced or cut into strips to beans such as black beans or garbanzo beans. Toppings such as nuts and seeds, fresh or dried fruit, and cheeses can help create a hearty salad and add color, flavor, and texture!
On a Roll —
Thai spring rolls are such a crisp and refreshing taste of the season. They can easily be made with julienned vegetables such as carrots, cabbage, jicama, cucumber, green onion, and jalapeno, some thin rice noodles (served cold), and an array of herbs such as basil, mint, and cilantro. Add some chilled shrimp for a little protein and serve with a Thai peanut sauce, and voila — a light and elegant finger food that requires little to no cooking and is packed with fresh produce. Everyday sandwiches can even be lightened up by swapping out bread for lettuce cups, then rolled up and served with an aioli for dipping.
Summer Sips —
Drink in the tastes of summer and lighten up meal time by swapping out oatmeal or cereal for a delightful smoothie packed with fresh fruits and vegetables. Think mangoes, pineapples, blueberries, bananas, strawberries… just pick some favorites and blend away! Smoothies are so easy to customize — add some yogurt or even some chia seeds for a thicker texture or add some Medjool dates for a natural sweetener. A handful of spinach, some celery, or cucumbers can be added to provide an extra serving of vegetables first thing in the morning!
Eating with the season is the best way to ensure the freshest produce at the peak of its flavor. So explore the goods at the farmers market and experiment in the kitchen! Cooking doesn't have to be elaborate or fancy or even require a heating source! With some easy seasonal swaps, spring and summer time meals can be lightened up in any number of ways — so get creative!