Motivational and Inspiring Bible Verses to Help Seniors Through Hard Times
Tuesday July 06, 2021
Categories: General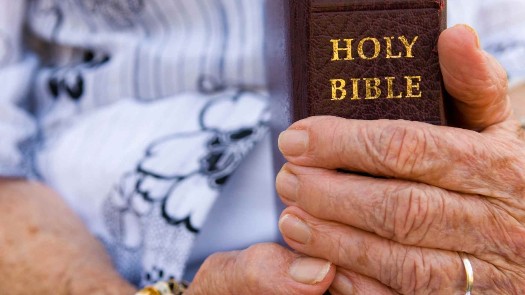 As seniors age, they have the opportunity to enjoy the Golden Years of retirement and create wonderful memories. But with age also comes the pain of illness, the grief of losing loved ones, and other hardships that may even challenge senior's faith and belief systems. During difficult times, Fellowship Square encourages seniors, and people of all ages, to seek comfort in the Lord. Through prayer, attending mass, or reading scripture, seniors may find the strength and inspiration they need to get through long or lonely days.
Fellowship Square offers the following scripture to help seniors find comfort:
Psalm 46:1-3 reads: "God is our refuge and strength, an ever-present help in trouble. Therefore we will not fear, though the earth give way and the mountains fall into the heart of the sea, though its waters roar and foam and the mountains quake with their surging."
This verse can be a powerful reminder that God is always there for those in need, and he does not want his children to live in fear particularly in times of trouble.
Isaiah 26: 3-4 states, "Those of steadfast mind you keep in peace — because they trust in you. Trust in the Lord forever, for in the Lord God you have an everlasting rock."
This is an important scripture for those that are starting to lose faith or feel disconnected from the Lord during difficult times. Those that begin to ask, "why me?" may find comfort and strength in believing in what the Lord has planned, even during times that may test seniors' faith. Trusting in the Lord and seeing him as an "everlasting rock" – a solid and never-ending source of strength may help seniors seek solace in him during hard times.
Those that are experiencing illness or pain in their aging process may find strength in the fact that even in old age, God is there. Isaiah 46:4 reads, "And I will still be carrying you when you are old. Your hair will turn gray, and I will still carry you. I made you, and I will carry you to safety."
Those that may be feeling sad or alone as they age can remember that God is with them and will continue to be with them throughout life on earth — and beyond. Seniors should find encouragement in the fact that God has promised to bring them to safety.
The bible also reminds seniors that even in their difficult times when they are "stumbling," God will not let them fall. Those that feel they are faltering need only reach out to God for strength. Psalm 37:24 states: "Though he stumble, he will not fall, for the Lord upholds Him with His hand."
Fellowship Square encourages seniors that are struggling with hardships to reach out — to God, to loved ones, or to neighbors and friends for the comfort and strength they need to continue. It's important to remember that even when times feel lonely or hard, God is still there and always there.