Mission, Values & Vision

From Our Executive Director
Thank you for your interest in Fellowship Square Historic Mesa.
I often hear folks say they want something more from a senior living community and it gives us great joy that they find it here.
Our goal is to help each resident thrive and live with purpose. Everyone agrees that staying independent is the key to thriving. We couldn't agree more. Here you'll find a variety of social resources, educational opportunities, physical interests and so much more to help you remain independent on your terms.
Helping our residents live with purpose is so important it's part of our mission. If you decide to call Fellowship Square Historic Mesa home, I promise we'll help you live every day as you choose.
Blessings,
Kristie Larsen, Executive Director  MSL NHA ALM PHR CDP CASP
Mission
Through Christian love and excellence, we are dedicated to providing a fulfilling lifestyle and promoting independence to those we serve.
Values
Guided by Christ's love, we believe in the immeasurable value of every person, we are committed to joyfully serve with humility, integrity and respect.
Vision
A world where all people thrive and live with purpose.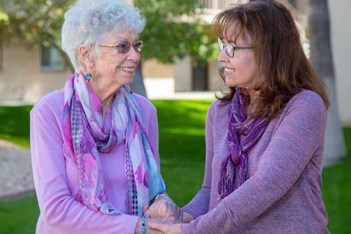 What sets Fellowship Square Historic Mesa apart from other Retirement Communities?
Fellowship Square, the Oasis Assisted Living and Reflections Memory Care are part of Christian Care, a non-profit corporation founded in 1979 in recognition of a need to provide quality and affordable housing for Arizona Seniors. Our caring Christian, non-profit structure simply attracts kind, service-oriented people – both staff as well as residents. It is evident every day in the outstanding and caring service our staff provides and the wonderful, supportive friendships that our residents form with each other.