News & Awards
Fellowship Square Historic Mesa Action Plan for COVID-19
In response to Arizona Governor Ducey's declaration of a public health emergency Fellowship Square Historic Mesa has put an action plan in place for COVID-19 to help protect our senior living residents. Click through to read our COVID-19 action plans for both Independent Living and Assisted Living communities. 
Check out the July 12th AZFamily News segment to learn about our Pen Pal program for our Oasis Assisted Living residents and how to become one.
Legacies, Transitions & Bright Futures
Please read our blog from our sister community in Phoenix about some important changes in our leadership.  For Fellowship Square Historic Mesa, we anticipate great things as God always seems to bless our community with exactly what and who we need at exactly the right time. 
Residents Sewing Care Bags
Senior living activities at Fellowship Square Historic Mesa can vary. Lately our residents have been giving back to the community by making Handbags for the Homeless. Watch this video of our senior residents creating a way to give back. 
Women residents of Fellowship Square Historic Mesa share their stories for Veteran's Day
This Veteran's Day was extra special at our campus because three of our residents shared their stories of being in the U.S. Armed Forces. We are honored to have these women be a part of our community and are thankful for their service to our country. AZCentral.com captured their stories so well, please read the entire article: 'I'm not going to become a nun, I'm going to join the Navy': Valley vets reflect on their service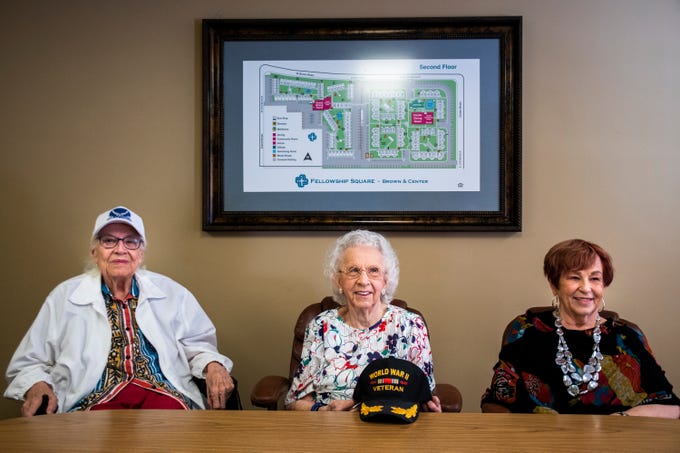 From left to right, Lyla Keillor, 
who served in the Air Force as a nurse during the Korean War; Gladys Pace, who served in the Army Air Forces during World War II; Charlotte Dodie Gussie-Richmond, who served in the Navy as a disbursing clerk during the Korean War.
Portrait at Fellowship Square Historic Mesa, senior living facility on November 7, 2019. Eli Imadali/The Republic 
National Senior Health & Fitness Day
At Fellowship Square Historic Mesa, we had the best time hosting National Senior Health & Fitness Day back on May 30th. The residents really enjoyed practicing Yoga and Tai Chi. Below is a video of the event, as we were lucky to have Fox 10 come out to highlight what a fun day we had planned for the independent living residents and the Mesa community. 
We are also really proud of our residents and staff members who have received Leading Age awards for Excellence In Service.
Media Contact:
Susie Timm
480-200-2766