Jerry Honeycutt - Leading Age Award Recipient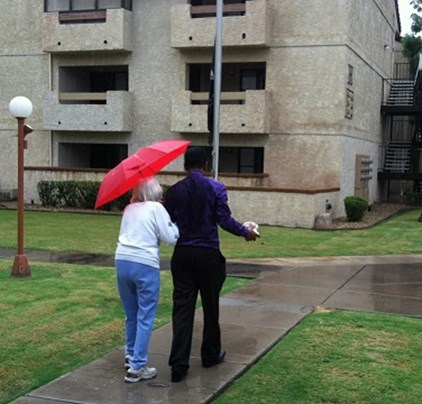 Our Dining Room Host, Jerry Honeycutt received the 2014 Leading Age Award for Excellence In Service. The award criteria required that the individual is in a non-management position, holds a frontline staff position and is seen to enhance the lives of residents or staff by the exceptional quality and passion of his or her work and through acts of kindness, giving and selfless care and support. Following is the nomination letter.
As this is posted, it is now four years later and Jerry continues to touch and enrich the lives of our residents and staff each day. The photograph of Jerry walking a resident home in the rain says it all. We are blessed to have staff as dedicated and compassionate as Jerry Honeycutt.
To LeadingAge Arizona Awards Committee:
My name is Enrique Garcia; I am an executive chef at Fellowship Square Historic Mesa. Our community is a large campus that houses seniors ranging from Independent Living to our Memory Care Unit. We are the home to a number of residents in various stages of their retirement. Working in the food service department I have been a witness to the importance of our service. For many coming down to our dining rooms is an important social time. Here they are able to mingle among neighbors, friends, and even bring their families to enjoy a delicious meal and converse in conversation. We strive to make their time in our dining rooms not only enjoyable but memorable as well. We want every person that walks into our dining room doors to feel at home, to feel welcome, and to leave with the desire to return. Once I was given information about the Excellence in Service award without hesitation I knew who deserved this award.
Jerry Honeycutt came to us March 2011 and I cannot express how much we wish we had found him years ago. Since day one of his employment Jerry has gone above and beyond all expectations that we have had in our department. It didn't take us long to realize that Jerry held the key characteristics that we wanted to teach to all of our staff. He was promoted to a Lead Server, to be able to display and teach his incredible skills, knowledge, and work ethics. Jerry consistently provides a remarkable service to our community here at Fellowship Square Historic Mesa. His compassion for the residents and guests, along with his strong commitment are all shown through his daily excellence service; daily being a very important keyword in that sentence. Jerry on a daily gives forth his best effort, his service is always at an all-time high, and that is something that not everyone can provide.
Jerry shows immense persistence to pursue goals beyond monetary returns. His range of characteristics is easily inspiring to other staff members, which give them self-encouragement to follow in his leadership footsteps. We are all fortunate to work with a man who has such a passion towards our residents, with a man who truly demonstrates our mission statement. "Motivated by Christian love and concern, we strive to provide quality and responsive senior housing, hospitality and healthcare services." Our facility is home to over 400 residents; whenever anyone enters our dining room he greets them personally with their name. To our residents this one of the most meaningful parts of their day; the way that jerry makes them feel, they feel welcomed and at home. Throughout his day he greets all co-workers, residents, family member and guests personally by name and with kindness and the most respect. Jerry is a prime example of what a truly good hearted person represents. I could write a book on what Jerry has done to impact the lives of our residents; and the ways he has reshaped, taught, and challenged our staff to work towards excellence. To help you see that impact Jerry has made through his Excellence in Service we have attached letters written from some of our residents. I hope that in a few paragraphs, and with a few letters you are able to see what an incredible honor Jerry Honeycutt has been to our facility, and what an incredible impact he has made in the lives of our residents. He is without a doubt the most worthy for this award.