Isaiah Barrett - Leading Age Award Recipient
Congratulations, Isaiah Barrett
Isaiah Barrett received a 2018 Leading Age Award for Excellence In Service. The award criteria required that the individual is in a non-management position, holds a frontline staff position and is seen to enhance the lives of residents or staff by the exceptional quality and passion of his or her work and through acts of kindness, giving and selfless care and support.
Isaiah has been a valued member of our Wait Staff since 2014.  He is a wonderful example and mentor to his teammates, and embodies the values of Christian Care "committed to joyfully serve with humility, integrity and respect". Isaiah understands the importance of his role, that greeting residents to make them feel welcome, and providing the best possible service are the "little things" that make their day.  He has received employee of the month and customer service nominations. In 2017 he received dozens of comment cards from residents stating his service was excellent, including:
Resident stated "Isaiah is the best, most considerate , likable, dedicated employee you have. He brings service to another level that is outstanding. Great trainer, knows how to take care of customers. He makes Fellowship Square look great."
Resident stated "He is a very gracious server who takes the time to be sure he understands what I need, he is patient not only with me when I am confused about what I want to order, he also is patient at our table when we all want to order at the same time." she also stated he "always has a kind smile".
Resident stated "He is such a hard worker".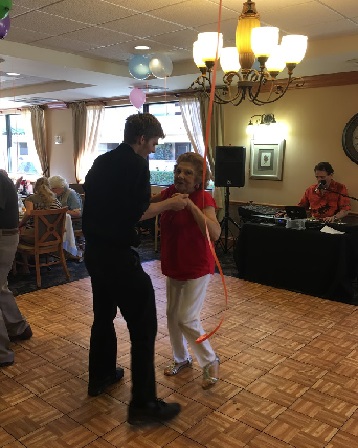 At a recent monthly resident birthday celebration Isaiah was caught on camera dancing with one of our residents. This act of kindness really made her day to the delight of everyone attending the event.  This is just one example of how he is perceptive and kind in how he interacts with residents.  He was nominated for the Excellence in Service Award for his compassion, integrity, and commitment to excelling in all he does.