Chaplain, Kurt Stromberg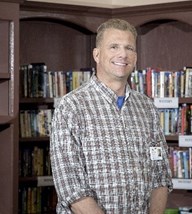 Kurt Stromberg was born and raised in Chicago and grew up in Elk Grove Village, Illinois. He has a bachelor's degree from Roosevelt University in Chicago, a master's degree in public policy and another in Christian Ministry (from Grand Canyon University). 
He is passionate about studying the Bible, prayer, men's ministry, his beautiful wife, dogs, and music.  Kurt enjoys building and nurturing relationships.
Kurt loves many things at Fellowship Square Historic Mesa in his role as Chaplain - especially the beautiful fellowship/relationships that we share with our residents. Kurt says it is an honor and privilege to be able to serve our residents as we share our faith in Jesus while experiencing life together. Kurt feels that our residents bless him more than he could ever imagine blessing them.  
Kurt's goals at Fellowship Square are to be engaged, invested in each resident equally, glorifying God with his words, actions, desires and goals. He wants each of us to grow closer to the Father through the wonderful wisdom and knowledge that is found in God's word.