Senior Fitness Specialist, Matthew Clark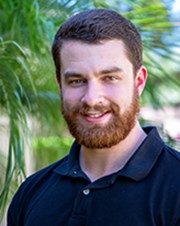 Fellowship Square Historic Mesa has been blessed with a wonderful SeniorFit instructor to help our residents get started on exercise programs and maintain their motivation.
His name is Jens Clark but most people call him by his middle name, "Matt". Matt is a proud native of Arizona. Being raised in Prescott made for a fun and eventful childhood filled with countless outdoor adventures. Matt was an avid athlete who participated in basketball and track and field. He attended Yavapai Community College and Arizona State University where he graduated with a degree in Exercise and Wellness.
Before working as a Senior Fitness Specialist, Matt was a Master Personal Trainer and a corporate wellness Health Fitness Professional for multiple big corporations around the valley.
Matt says "One of my biggest goals is to make people feel healthier, happier, and full of energy in their day to day life. Working with Fellowship Square Historic Mesa residents will not only fulfill my mission, but go above and beyond by affecting multiple lives in a positive way. If I can just affect one life, it means the whole world to me."
Matt invites our Fellowship Square Historic Mesa residents to stop by the gym to meet him and learn more about how he can help them achieve their wellness goals and maintain independence.