Senior Fitness Specialist, Jasmine Bejerano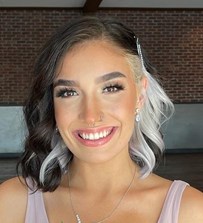 Fellowship Square Historic Mesa has been blessed with a wonderful SeniorFit instructor to help our residents get started on exercise programs and maintain their motivation.
Jasmine Bejarano was born and raised in Peoria, Arizona.  She began her sports medicine journey in high school where she was a part of the Athletic Training Club.  From there, she continued her love for overall health and graduated from Arizona State University with a Bachelor's Degree in Exercise Science and Wellness.
Jasmine says that working for our Fellowship Square Historic Mesa senior living community has been extremely rewarding because she gets to see the differences she makes in the lives of each person she gets to work with.  Jasmine also says, "Hearing residents tell me how much easier it is to take the stairs, carry their groceries or just have better balance makes all the work worth it.  Their progress deserves to be celebrated whether it's big or small.  Overall, the residents are so warm and welcoming.  They make me feel loved."
Jasmine invites our Fellowship Square Historic Mesa residents to stop by the gym to meet her and learn more about how she can help them achieve their wellness goals and maintain independence.