Senior Fitness
Staying physically active is crucial to our good health, particularly as we age. In partnership with Symbria, we are pleased to offer health and fitness programs designed specifically for seniors and offered under the supervision of a trained fitness instructor.
See Fellowship Square Historic Mesa's Senior Fit instructor and trainer, Jasmine Bejarano.  Jasmine works with residents in strength training, stretching, posture and a mind body connection, all of which the affected by aging. Our senior living residents enjoy staying active and we're proud to offer Senior Fitness to the community.  See our fitness class schedule.
Reducing fall risk is a key goal for every resident.  Jasmine works hard to evaluate residents and incorporate exercises in their programs to do just that.  Check out ways to reduce falls.
One resident, William Eddings shares a little of his experience with Jasmine when he sought out her help to get started on a fitness routine shortly after his wife passed away. Eddings set up a one-on-one session with Bejarano (whom he calls an "outstanding individual") and she helped him not only lose 25 pounds but also increase his strength, stamina, endurance and vastly improve his health levels. Beyond helping him with physical fitness, Eddings says she is great at connecting with and communicating well with seniors on an emotional level. "During our session, Jasmine engaged me in conversation. I was comfortable enough to share some of my feelings," Eddings says, adding, " She listened and was empathetic without being presumptuous or nosey. She is sensitive to my physical and emotional needs."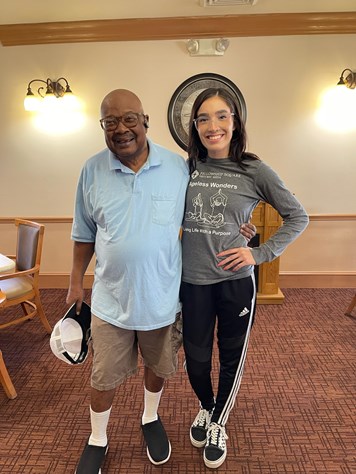 Recently one of the local news stations came out to see senior fitness at Fellowship Square Historic Mesa first hand. 
For more information, please contact our our Campus Care Coordinator at 480-290-7019.
At Fellowship Square Historic Mesa, residents are free to choose their own health and wellness providers.  We hope you consider our partners, but the choice is always yours.