Maintain Your Independence By Reducing Your Fall Risk
Every year, more than 1 in 4 elderly adults has at least one fall and over 3 million are treated in an emergency room as a result.  Many of these falls result in a broken bones or head trauma and the fast majority of all hip fractures are caused by a fall. 
These injuries can have a significant impact on a senior adult's ability to maintain their independence and take care of some of the basic activities of daily living.   On top of that, once a senior falls, they are at an even higher risk for falling because they tend to become fearful and reduce their activities which can result in a further loss of strength and balance.
There are a number of reasons that seniors are at a higher risk of falling. Among them are vision impairment (misjudging the edge of a curb or step), taking medications that may cause dizziness or simply a loss of strength and flexibility.
There are some easy things that can be done to reduce fall risk like removing hazards from your home such as throw rugs or installing grab bars in the bathroom.  Another idea is to ensure that your eyeglass prescription is current and that your home is well lit.  Make sure you wear practical footwear (not scuff-type slippers or flip flops) and forego the high heels.  If you have dizziness, discuss with your doctor if any of your medications could be the cause.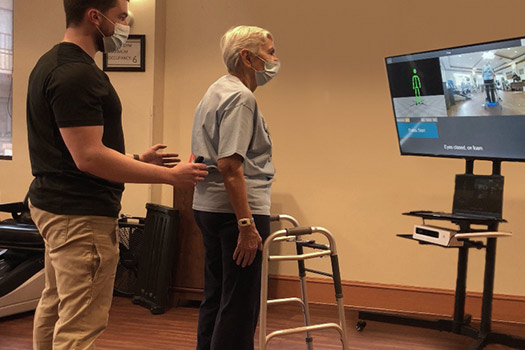 Residents at Fellowship Square Historic Mesa have a couple of big advantages in the fight against falls.  One is our Virtu-Sense™ Fall Risk Assessment tool. Virtu-Sense technology uses artificial intelligence and machine vision to identify deficits in balance, gait and function - the three leading indicators of fall risk. 
The other advantage our residents have are the exercise classes offered at Fellowship Square Historic Mesa and 1-1 guidance with our Senior Wellbeing Specialist, Jasmine Bejarano.  To learn more, please request our video on the fall risk assessment which is offered free to all residents and prospective residents who tour.