Senior Living vs. In-home care for seniors: How to decide
Monday January 30, 2023
Categories: General, Independent Living, Assisted Living
---
As we age, we often face tough decisions regarding our living situation. People often research and evaluate two options: receiving in-home care versus moving into senior living. For many seniors and their families, it's difficult to shake the preconceived notions of what a retirement community looks like. And for others, the concern of losing their privacy if they move into a senior living community makes in-home care seem preferable.
The temptation to 'figure it out later' or to 'wait until I really need help' is strong. We understand.
Moving into a retirement community is not only a physical move but a mental and emotional change as well. Unfortunately, when you wait too long, your choices are much fewer, and you can also miss out on the opportunity to maintain and enjoy your independence.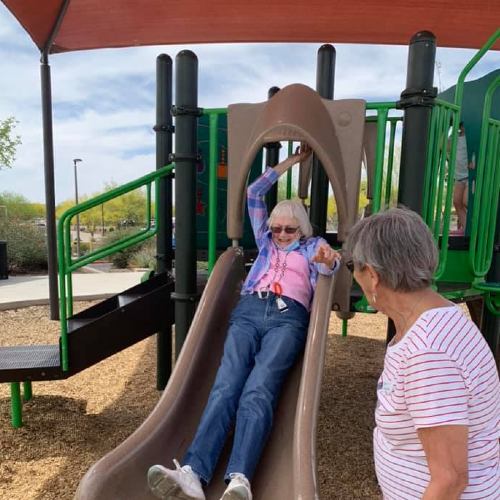 This post will look into the different types of home healthcare services, examples of each, and the costs involved. We will explore the same points in senior living so you can easily compare the two options side-by-side to determine the best option for you and your family.
---
What's the difference between home care and home health? 
The terms 'home care' and 'home health' are often used interchangeably; however, they are completely different sets of services. Some services are private pay - meaning the resident or patient pays out of pocket for the services, while others may be covered by Medicare or insurance.
Sometimes referred to as supportive services, in-home care, or homemaker services, home care services are non-medical and are typically paid for out of pocket. Anyone can arrange home care services; they do not require a doctor's order.
Home care services may be provided by certified caregivers, but most are caregivers trained through the agency's programs. Hourly rates can vary depending on the service provided and whether it is given by a certified caregiver or a home care aide.
Some examples of home care or supportive services include basic household chores like housekeeping, meal preparation, and laundry, as well as assistance with activities of daily living, such as bathing, dressing, and grooming.
Home Health provides skilled services in the home that are medical in nature. Home Health services require a physician's order, and you must have a medical necessity for the services of a nurse or therapist. Home Health services are typically covered by Medicare and insurance. Home Health services are provided by licensed, skilled professionals in the home.
Home Health includes skilled nursing services such as post-surgery care, IV port monitoring, catheter care, ostomy care, and feeding tubes. It also includes other skilled services like physical and occupational therapy, speech therapy, and medical social services.
What are the different levels of senior living care? 
Independent Living
Independent Living provides the least amount or lowest level of care. Seniors who move into an Independent Living community are looking for a carefree lifestyle with access to services such as housekeeping, maintenance, a meal plan, planned activities, and transportation. Independent Living is most appropriate for seniors who can take care of their activities of daily living with little to no outside support. Depending on their care needs, sometimes a senior can receive additional home health services in their Independent Living apartment, as long as it's safe for them to do so.
What is included in Independent Living?
While each community differs slightly, monthly rent typically includes a meal plan, housekeeping, maintenance, 24-hour security, planned activities, scheduled transportation, and more. Access to amenities such as a fitness center, pool, indoor and outdoor activity spaces, and concierge services are also included.
Some senior living communities, like Fellowship Square Surprise, provide Enhanced Retirement Living™, specifically designed for older adults who want to enjoy active lifestyles while maintaining independence. They want to enjoy the tangible amenities and services available in retirement communities in a holistic environment that provides opportunities for developing intellectual, emotional, and spiritual health.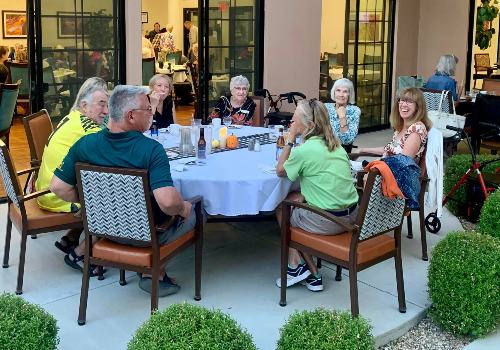 When reviewing your budget, it's helpful to list these items side by side with what you are currently paying at home – people are often happily surprised at the value of the benefits provided at retirement communities.
---
Assisted Living
Supervisory Care provides the least amount of care, Directed Care provides the highest level of Assisted Living care.
Assisted Living facilities are licensed by the Arizona Department of Health Services (AZDHS) for one, two, or all three levels of Assisted Living care.
Assisted Living services are provided by certified caregivers under the supervision of a nurse and licensed Assisted Living Manager.
Before moving into an Assisted Living facility, residents will have an assessment with the Manager to determine which level will be the best fit for them. After the assessment, the Manager will review the care plan with the resident and their power of attorney/medical representative.
Assisted Living is a good fit for those who are no longer able to live safely in Independent Living, even with added services. They require more assistance with their activities of daily living (such as bathing, dressing, and grooming), medication reminders/management, and meal preparation.
What is included in Assisted Living?
Monthly rent in Assisted Living includes three meals a day plus snacks, assistance with activities of daily living, planned activities, scheduled transportation, housekeeping, laundry, and more. Caregivers are on staff 24/7 to answer resident calls for assistance.
---
Why some believe in-home care is better. 
Some people believe home care is better because it gives patients more control over their care; they can stay in their own homes and receive individualized attention. Some also believe they will have more privacy and independence if they receive care at home.
While all of these points are true, they are equally true for seniors living in retirement communities. 
Seniors living in a retirement community can still receive home health or supportive services in their apartments, with the added benefit of services and amenities not available with in-home care.
Fellowship Square Surprise's At-Home Care Services offers more than the typical menu of supportive services, such as coordinating physician house calls or at-home lab visits. Further, some home health agencies, like Covenant Home Health, offer service packages that help facilitate the transition home after surgery or a hospital stay. Working with the care team at the senior's retirement community, they can help ensure a successful transition home.
---
Senior Living is better for overall health and wellness 
What do retirement communities have to offer that in-home care doesn't? 
Arguably the most important key to positive mental health and overall wellness - social connection.
Seniors living at home alone experience isolation more than most age groups due to lack of physical mobility, loss of friends, hearing loss, and finances. Retirement communities offer many opportunities to socialize and stay engaged physically, mentally, and emotionally.
According to the CDC, recent studies have shown that older adults experiencing social isolation are at a higher risk of developing severe or worsening health conditions:
"Social isolation significantly increased a person's risk of premature death from all causes, a risk that may rival those of smoking, obesity, and physical inactivity."
Their article further states that social isolation "was associated with about a 50% increased risk of dementia." You can read their full article here.
The assistance of a home care worker is important, yet it cannot replace the value of forming friendships and socializing with fellow seniors. Even when social distancing was at its peak in 2020, retirement communities arranged activities that kept everyone safe and allowed for meaningful interaction. Music concerts were held in outdoor areas for residents to listen to from their balconies or patios, Halloween was celebrated with "reverse trick-or-treating", and meal delivery services were provided.
Having access to maintenance, transportation, 24/7 security, and a network of services offers peace of mind that can't be found with in-home care. Organizing transportation to doctors' appointments, shopping, etc., can be stressful if you don't have family nearby. However, if you live in a retirement community, there is no need to worry. The transportation team in the community is happy to provide you with a ride. Additionally, if you want to get together with your friends for a meal or coffee, you can easily walk to the next building - no need to worry about traffic or hiring a ride-share.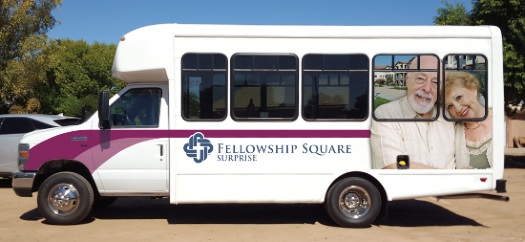 Some communities have physical therapy and licensed home health agencies on-site, eliminating the need for transportation to an appointment or searching for a home health agency on your own.
Your privacy and independence are still your own. If you want to spend the whole day enjoying your private patio reading books or doing absolutely nothing – it's up to you. But it's comforting to know you are part of a community – you are not entirely alone.
---
Costs of in-home care compared to the cost of senior living 
When you are ready to start budgeting, Genworth's Cost of Care Survey tool can be quite helpful in comparing the costs of in-home care to those of the different senior living options.
As an example, we entered a set of parameters* into their application and received the following information:
Fellowship Square has created a Cost of Senior Living Calculator that can help you evaluate the costs of your current living situation and see how they compare to those in a senior living community.
Conclusion:
Retirement communities provide a wealth of benefits that aren't available with in-home care. From access to security, dining options, and amenities to opportunities for social connection, there are a variety of advantages to consider in your decision process. Those looking for a safe, engaging, and carefree lifestyle will find that senior living is the best choice.
---
At Fellowship Square Surprise, our Enhanced Retirement Living™ approach offers integrated services that focus on helping you maintain and enjoy your independence longer while enriching your life experiences.
Ready to schedule your tour? Give us a call at 623-900-1077, send us an email, or fill out this form; we can't wait to show you what senior living is really like. We have a seat saved just for you!
---