Five Simple Ways for Seniors to Stay Active and Cool During the Summer Months
Tuesday August 15, 2023
Categories: General, Independent Living, Assisted Living
---
As we age, it's even more important to stay active and keep our bodies moving. But exercising during summer can be challenging with the sweltering heat and humidity. Arizona has hit record temperatures this year, and our season is far from over! We are expected to hit triple digits throughout the month of August. September may bring FOOTBALL and FALL, but it still brings the HEAT!
However, staying fit and cool is not impossible. With a little creativity and some smart choices, you can beat the heat and continue your daily exercise routine. Here are some simple ways to stay active and cool during summer.
1. Rise early to beat the heat
The most comfortable time to exercise during summer is early morning before the sun rises high in the sky. The temperatures here are typically in the low to mid-90s from 7:00 am and 9:00 am. Avoid the hottest hours between 10:00 am and 3:00 pm, when the heat is at its peak. Early morning workouts help you beat the heat and energize your body, giving you a great start to the day.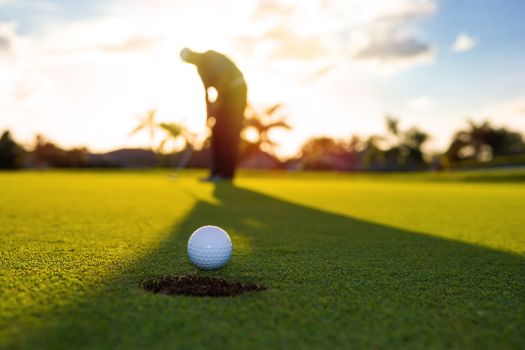 2. Utilize Fellowship Square's Fitness Center & Exercise Program for Seniors
Did you know that in addition to our full-service Fitness Center, we also offer a personal fitness program and a schedule of classes? Our certified fitness specialists offer one-on-one fitness instruction for seniors, exercise classes, and educational sessions to support your health and wellness journey. Best of all, this program is available to our residents at no extra cost! You can stop by the Fitness Center to grab a schedule of classes or make an appointment for your one-on-one session.
If you have joint pain or arthritis, high-impact exercises like running or jumping may not be for you. Instead, try low-impact exercises like swimming, walking, cycling, or yoga that are easy on your joints and help you stay active. These activities keep you moving and help you build strength, improve balance, and boost flexibility. Again, stop by the Fitness Center and get a schedule of these fun and fit classes!
Summer Fitness Schedule at Fellowship Square Surprise
Click to download a print-friendly version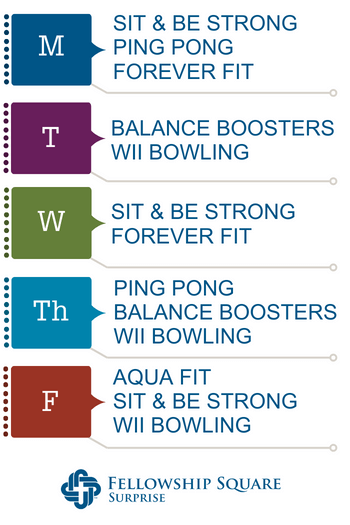 ---
3. Cool down after exercise
After exercising, it's essential to gradually cool down and let your body return to its average temperature. Take a cool shower, sit in an air-conditioned room, or use a cold compress to lower your body temperature. Stretching is also an excellent way to cool down and prevent muscle soreness or injury. We are all busy and tempted to rush from exercise to the next task or event. Goodness, there is always something fun happening here at Fellowship Square Surprise! Make sure you take time to breathe and don't push yourself or your body too hard between exercise, activities, and events.
4. Importance of hydration for seniors
Staying hydrated is crucial, especially during the summer months. Water regulates your body temperature, removes waste, lubricates your joints, and helps you stay focused. Carry a refillable water bottle with you all day and sip on it frequently. Avoid sugary drinks, alcohol, and caffeine, as they can all cause dehydration and increase body heat.
We have set up Hydration Stations throughout the community for your convenience, and we encourage you to drink these fruit-infused waters throughout the day to stay healthy and hydrated! The Square® Café & Bistro also sells market items such as bottled water, Gatorade, and many other drink items.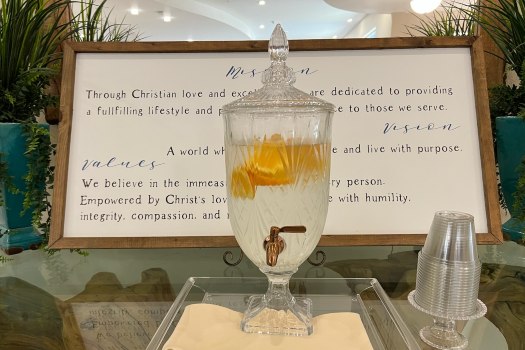 5. Dress for the occasion!
Your clothing can make a significant difference in staying cool during summer exercise. Choose loose, lightweight, and breathable fabrics like cotton and linen that allow air to circulate and cool your body. Avoid dark colors that absorb heat and opt for light-colored and light-colored clothing instead.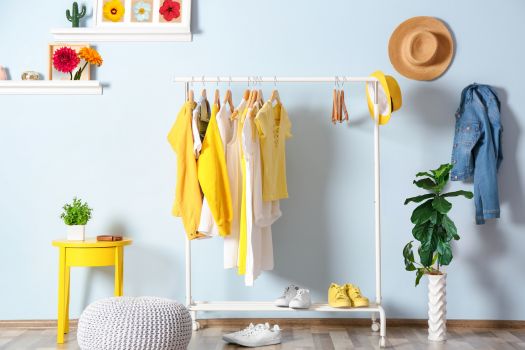 Don't forget to wear sunscreen and a hat to protect yourself from harmful UV rays. If you find it cool inside, carry a light jacket or sweater. Make sure you can easily remove it if you happen to go outside. The sun can be much hotter than you expect when you step outside, even if only for a short time!
In Summer-y:
Arizona is known for its intense summers; this year is no exception. As we approach triple digits, it's even more important to stay active and keep our bodies moving. With a bit of creativity and some smart choices, you can beat the heat and continue your daily exercise routine.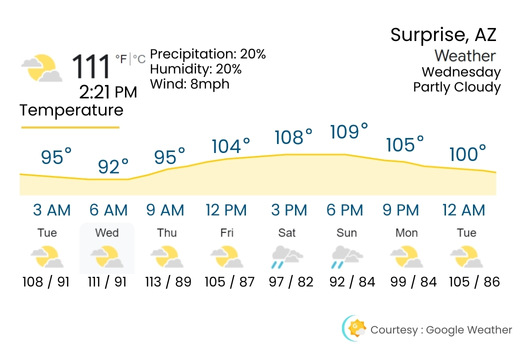 Ready to discover the exercise programs for seniors at Fellowship Square Surprise?
The atmosphere at Fellowship Square Surprise's fitness activities and exercise programs is hard to beat! So whether you're a  senior looking to stay fit for life or someone with weight loss goals, you'll always find friendly faces, helpful pointers, and state-of-the-art exercise equipment designed for seniors. 
We can't wait to show you everything our senior living community in Surprise has to offer.
Give us a call at 623-900-1077 or send us an email at [email protected]. We look forward to meeting you!