Freedom From COVID-19 Celebration
Wednesday April 21, 2021
Categories: Independent Living, Assisted Living, In The News
Post-Vaccination Freedom Party for Seniors
Despite many of the negative, worrisome stories that have circulated over the past year about COVID-19 outbreaks in nursing homes, Fellowship Square-Mesa wants to set the record straight for how our seniors have survived the pandemic and are now celebrating together in person. On Friday, April 16th, our residents gathered outside on campus for a 'Freedom From COVID-19' Celebration—as we are now fully open to celebrate life and socialize without restrictions. Our resort-style, not-for-profit senior community encourages those we care for to have the fullest and most active lifestyle possible. We were thrilled to be able to hold an unrestricted party outside together, as residents attended in matching freedom shirts while enjoying the jubilant music, games, prizes, and food offered. After a year of more isolation than usual, it was a truly meaningful event.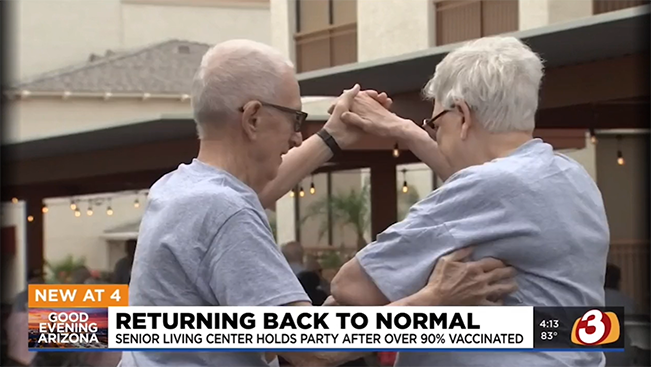 Over 90 percent of Fellowship Square-Mesa senior residents and staff have now received their vaccination, which allows them more freedom to socialize and enjoy the community amenities that have reopened—including the onsite dining rooms and gym facilities. Throughout the pandemic, Fellowship Square-Mesa has remained in compliance to state guidelines and mandates related to senior living communities, restaurants, and gyms (given these inclusions on campus). We were elated to reopen all campus facilities without restrictions, since we superseded the 70 percent requirement for community vaccinations.
Our senior residents (whose age is mid-eighties on average) have thankfully remained virtually unharmed throughout the COVID-19 pandemic, thanks to comprehensive campus protocols that are in place and will continue to be implemented. These include temperature checks and a questionnaire for guests, our proprietary air quality system used, social distancing as needed, and our customized Alexa Community health check-ins on a daily basis for residents and their family members' peace of mind.
Judy Muraida, a resident at Fellowship Square-Mesa who attended the celebration, mentioned to Channel 3 News—who was highlighting the fun event—that, "This party is great. Some people may be reluctant to come out of their apartments. It's not over. We still have to be wearing a mask and washing our hands and stuff. At least we're on the uphill now." Her husband Ron added, "Even though we've been through a lot like everybody, we came through it very well and we're glad to see things starting again." To view the news story filmed or article written on this event, click here.