The Healthy, Fun Pursuit of Lifelong Learning
Tuesday April 27, 2021
Categories: Independent Living, Assisted Living, In The News
A wise visionary once said, "Anyone who stops learning is old, whether at twenty or eighty. Anyone who keeps learning stays young." Henry Ford understood that lifelong learning keeps your mind sharp, improves your memory, gives you a feeling of accomplishment, and helps you build on skills you already have. At Fellowship Square-Mesa, we prioritize lifelong learning amongst our senior residents so they continue to try new things, increase their self-confidence, meet people who share their interests, and avoid the trap of stagnation.

In order to help our senior community live the fullest lifestyle possible on our campus, our philosophy centers on providing five pillars of care: we address our residents' physical, emotional, spiritual, intellectual, and social needs for their whole wellbeing. There is always room to learn and grow in all of these areas, which is why we offer lifelong learning classes each week for all residents. In them, lively discussions are encouraged as seniors have an opportunity to revisit past experiences while also learning new things through guest speakers, book studies, and meaningful connection with others.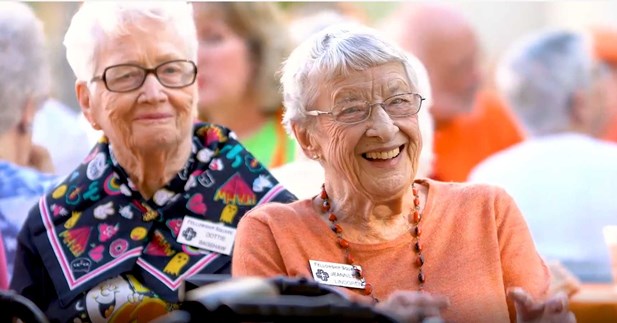 In addition to our lifelong learning classes offered, Fellowship Square-Mesa provides many other opportunities to grow, cultivate learning, and experience new things. Every week there are tailored fitness sessions, Bible studies, various clubs (for sewing, Bingo, teachers, movies, poetry, etc.), gardening sites to care for, and volunteer occasions to help others. Our well-stocked library is available to seniors on a daily basis, along with meaningful programming on our cable network TV system that is customized for the edification of residents. There is really no shortage of options when it comes to creative, entertaining ways to continue the pursuit of learning on our campus.

The permanent signage seen upon entry to our Fellowship Square-Mesa senior living community pays tribute to the importance we place on continuing education: "Lifelong learners live here!!!" As our Professor of Aging Excellence and Executive Director, Jon Scott Williams, will tell you, "When you quit learning, you quit progressing. It is imperative that our lifestyle promotes the stimulation of healthy minds and bodies." Visit us today and come see how much fun it can be to keep learning together.