Independent Living to the Fullest
Thursday June 10, 2021
Categories: General, Independent Living, In The News
Independence is a value that is instilled throughout our lives, and one that doesn't diminish with age. In fact, independence may be even more important to seniors because it gives them a sense of control—when they cannot stop the effects of aging—plus often plays into their feelings of self-worth and well-being. The Independent Living option at Fellowship Square Mesa's active, resort-style campus caters to senior adults who are looking to maintain their own current lifestyle while seeking out the benefits of a friendly community and access to convenient care that brings peace of mind.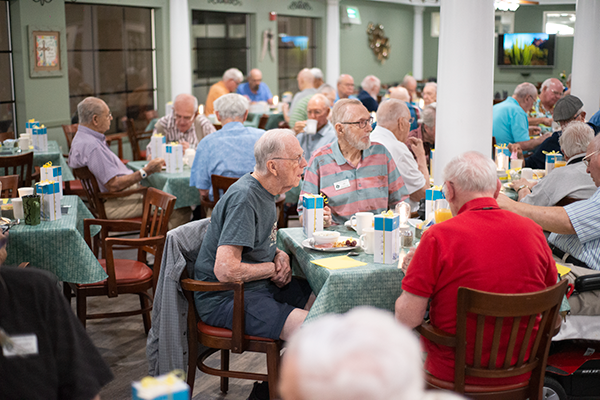 For decades, our not-for-profit organization that is faith based and well respected has provided residents and families with an Independent Living experience that far exceeds the thoughtful care and relevant amenities you would expect. While Fellowship Square Mesa offers plenty of opportunities to stay active, continue learning, connect with others, and be entertained throughout the week, our self-sufficient seniors are encouraged to come and go as they wish.
From campus events, fun activities, health care support, and wellness classes to neighborly social hours, there are always opportunities to pair the sense of community with the valued independence that is sought. Even offsite outings abound for residents who want to venture out for volunteering, dining, the theatre, and more nearby sites. 
When moments of solitude are wanted, our autonomous seniors can enjoy the privacy of their own personalized apartment. Fellowship Square Mesa offers living spaces that are 1-Bedroom, 2-Bedroom, or 2-Bedroom Deluxe (with more square footage and additional patio space). They are fully equipped with a full-size kitchen, washer and dryer, wireless emergency response system, 24-hour security, high-definition digital TV, smart thermostats and communication devices, paid utilities (the phone portion is separate), housekeeping twice a month, scheduled transportation, maintenance, and 25 meals per month. Right outside their comforting apartments, our residents enjoy leisurely time strolling our well-maintained landscape, meditating in the prayer garden by the koi pond, and exercising in our pool or at the fitness center that is catered to senior wellness. We know that all of the collective offerings for Independent Living at Fellowship Square Mesa keep the seniors happy and fulfilled, as we continually seek to foster purpose and accomplishment for our residents.