Assisted Living at The Oasis
Thursday June 17, 2021
Categories: General, Assisted Living, In The News, Memory Care
As seniors age and need more help with daily life functions, there is peace of mind that comes with securing an appropriate balance of independence and assistance. In addition to experiencing the same extensive amenities offered on campus to our Independent Living seniors (shared here), our Assisted Living residents at Fellowship Square Mesa receive professional and personalized assistance while living in The Oasis. Here they can truly celebrate life while we promote a lifestyle of dignity and improve the aging experience.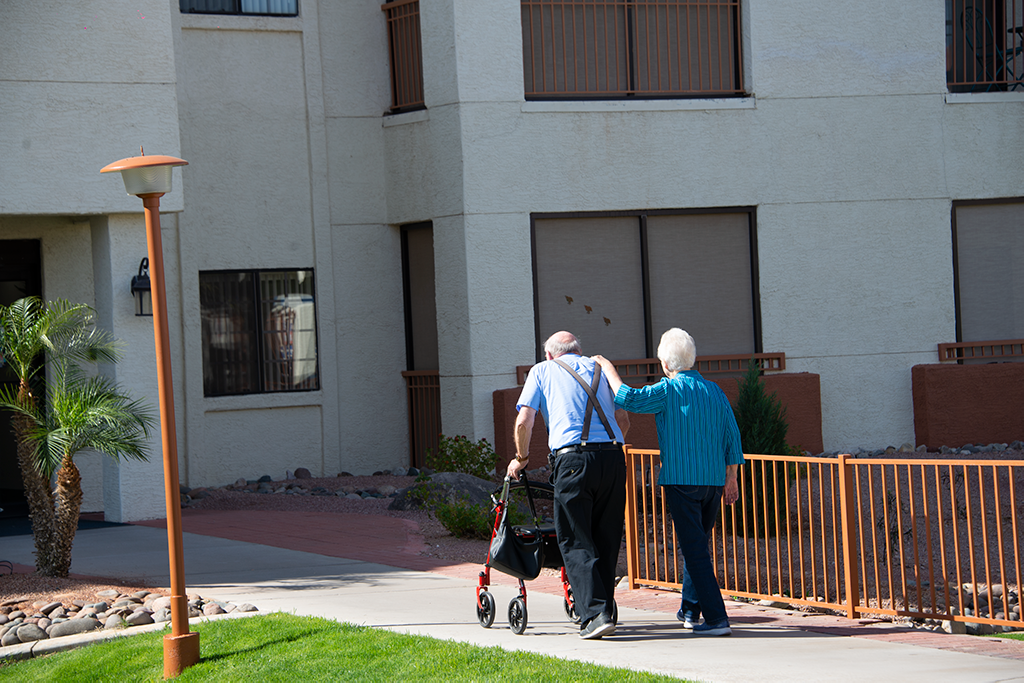 Assisted Living support comes in many forms and can be tailored to the needs of each senior. Our seniors and their families are invited to utilize our interactive, online tool through "Leading Age Arizona" that helps to quickly identify the appropriate range of services needed through a questionnaire about each resident's desired lifestyle. Assisted Living floor plan choices at Fellowship Square Mesa consist of a studio with a kitchen and bath or a 1-bedroom apartment (either 611 or 754 square feet) that has a kitchen, bath, living room, and balcony. Options for added care provisions offered onsite include medication management, personal grooming assistance (such as bathing and getting dressed), escorts to and from meals or activities, safe transportation, daily assurance checks, incontinence management, housekeeping, and routine maintenance services. The breadth of our daily assistance brings residents the comfort and security that is necessary for continuing to enjoy life to the fullest. 
As a faith-based and not-for-profit organization, Fellowship Square Mesa also offers Assisted Living residence at our Christian Care Manor IV for aging seniors with great financial need. Thanks to the generous donations received through the Charitable Tax Credit program, we continue to provide very low-income residents who have medical frailties with an enriched aging experience during a time in life when they are often overlooked by society. More information on this outstanding opportunity for charitable contributions can be found at www.asdor.gov.
Come see for yourself on our Fellowship Square Mesa campus in the East Valley why seniors who are taking advantage of our Assisted Living services at Manor IV and The Oasis find safety and assurance in our senior care expertise.