Senior Tech Fest to Highlight Technological Impact
Thursday July 01, 2021
Categories: Independent Living, Assisted Living, In The News, Memory Care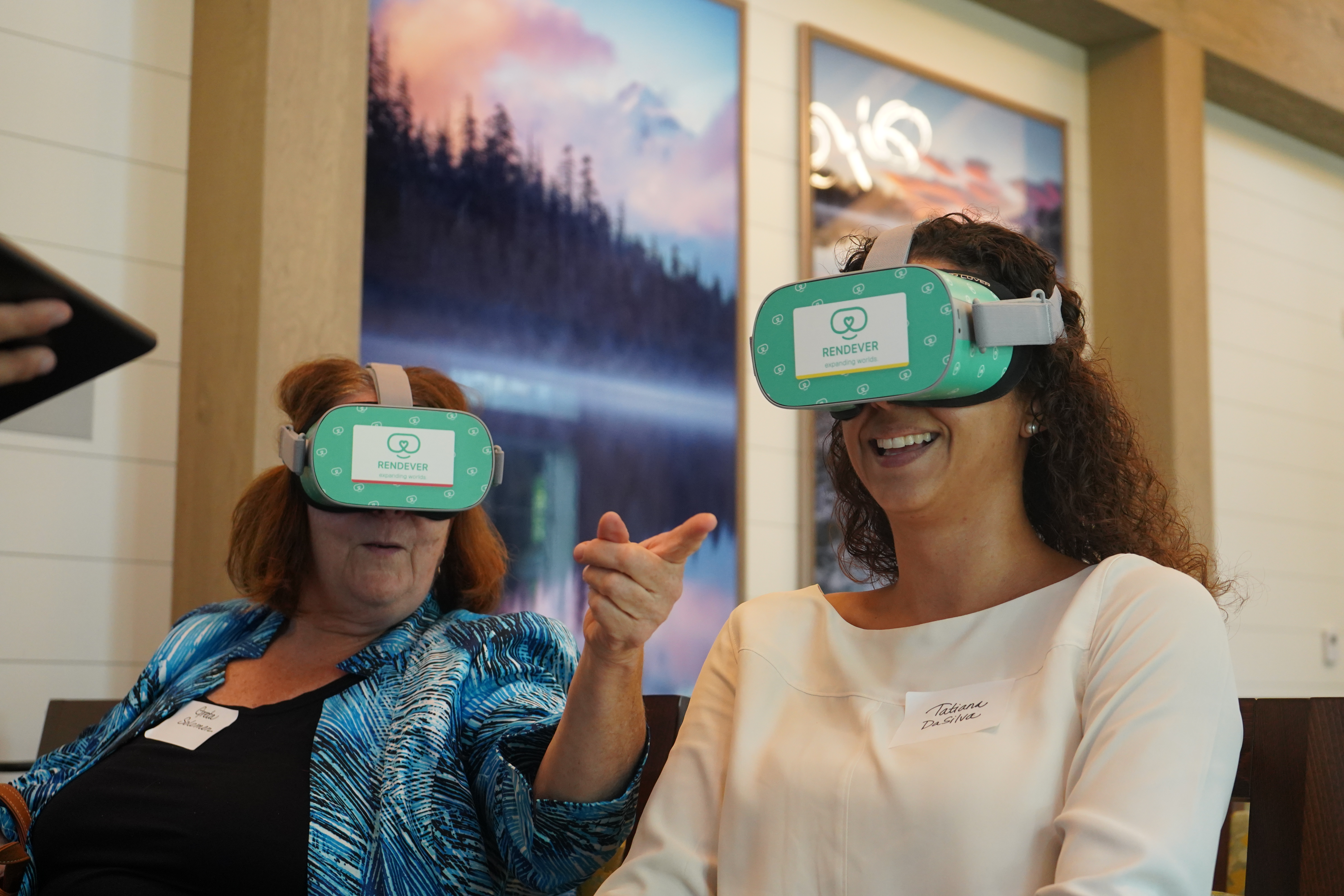 The impactful use of technology among aging residents at our resort-style senior living community in the East Valley is turning heads across the nation; but, more importantly, is greatly improving the seniors' quality of life. The technological advances utilized at Fellowship Square-Mesa include the proprietary Alexa community developed via Amazon's Alexa Smart Properties (explained in detail here), our caring "fall prevention" technology implemented in partnership with the Arizona State University Smart City Cloud Innovation Center (read more about it here), in addition to multiple other energy-saving safety measures for a Smart Apartment (view award-winning details here). 
On Friday, July 23rd (2021), senior residents at Fellowship Square-Mesa will gather inside the event room at our senior living campus for a Senior Tech Fest—a fun event celebrating and highlighting how technology successfully promotes their safety, health, connection, and entertainment. The residents of this resort-style community, who are encouraged by the not-for-profit management team to have the fullest and most active lifestyle possible, will experience: virtual reality "trips" at a time in life when travel is limited, engaging hi-tech exercise activities with the aid of a senior fitness specialist, interactive tech safety games that highlight current injury prevention measures utilized onsite via smart tech, social media guidance sessions during the event for getting connected to family plus friends, technology prize giveaways, and summer food fare. It's sure to be a showcase of how our modern residents are not just passing their time with outdated relics or pastime recreation, but are part of a truly unique event and the ongoing gap-closing of technology usage among the elderly. 
A number of technology colleagues that Fellowship Square-Mesa partners with, some who were previously noted, will be present at the Senior Tech Fest—including Amazon Alexa, SRP who is our energy-saving tech partner plus Smart Apartment sponsor (Fellowship Square-Mesa was the 2020 recipient of SRP's Champions of Energy Efficiency Award for Excellence in Innovation), the Arizona State University Smart City Cloud Innovation Center Powered by AWS (ASU CIC) who jointly created the fall-prevention program with the senior campus, the Rendever team that helps overcome social isolation through the power of virtual reality and shared positive experiences for seniors, InTouchLink who has implemented a senior-focused kiosk communication platform, plus more valuable partners in the senior tech space. John Coyne, Senior Solutions Architect with Amazon's Alexa Smart Properties, noted about the occasion, "We are thrilled to be a part of this event highlighting the customized Alexa product utilization at Fellowship Square-Mesa that is significantly bettering the lives of seniors." While Justin Godderis, Vice President of InTouchLink, recognized, "Fellowship Square-Mesa's unique approach to leveraging our tools to fundamentally better seniors' lives in a post- pandemic state is awe-inspiring. We're thankful to partner with this forward thinking group."
We look forward to our residents, media partners, and technology colleagues experiencing the Senior Tech Fest between 10 a.m. to 12 p.m. on July 23rd and walking through the Smart Apartment showcase onsite (sponsored by SRP) that highlights utilization of Amazon's Alexa, fall prevention measures, smart thermostats and power strips, award-winning lighting based on energy savings, tech-based window sensors, and more novel implementation. Private media tours of the Smart Apartment will be available with a prior reservation between 9 a.m. to 10 a.m. on that day. While the general public is invited to attend between 12 p.m. to 2 p.m. with an R.S.V.P. to (480) 422-3757 or [email protected] by July 21st.