Hospitality That Feels Like Home
Thursday August 05, 2021
Categories: Independent Living, Assisted Living, In The News
One cannot underestimate the impact of genuine hospitality, as it fulfills the basic human need to be accepted and loved. The ability to care for others in a welcoming, nurturing way is a gift that leaves the recipients feeling important and appreciated. At Fellowship Square Mesa, it is inevitable that residents and guests will feel the hospitable treatment throughout their experience at the resort-style senior living community for independent living, assisted living, and memory care recipients.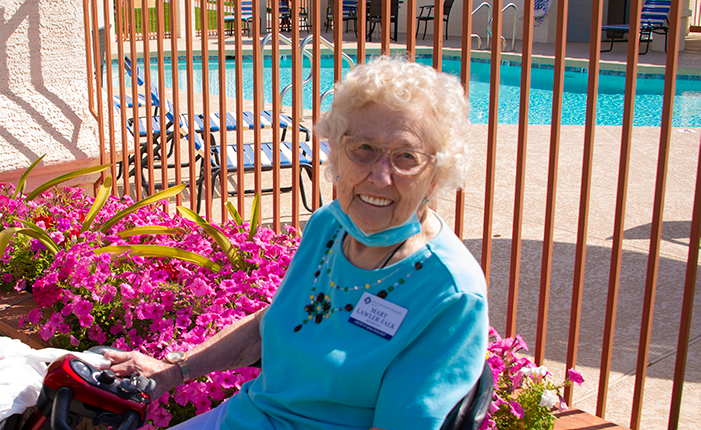 From the moment you step foot on the not-for-profit Christian Care organization's campus, the staff at Fellowship Square Mesa go above and beyond when it comes to serving their residents plus daily visitors. The outward focused care and genuine respect that is shown by employees at every role level contributes much to the community culture. The front desk assistants, office management, dining crew, maintenance team, and various caretakers all are well-versed in anticipating the needs of the residents and creating a living experience that is friendly, comfortable, and entertaining.
A sure sign that the hospitality displayed is backed by genuine care is when staff and caretakers have genuine relationships with their senior residents and family members. It doesn't take long to notice while on campus that the seniors at Fellowship Square Mesa are known by name and all treated with much dignity, no matter what phase of successful aging they are experiencing. This thoughtfulness and consideration is definitely modeled by the Executive Director, Jon Scott Williams, who leads this innovative senior living community with heart, poise, and a big dose of graciousness.
Residents often speak about the friendly community and relationships that Fellowship Square Mesa affords, which can only be accomplished through the establishment of organic hospitality. Come encounter for yourself—or for your elderly loved ones—what warm, generous accommodations can signify to an aged soul. The feeling of "home" will be easily found.