Senior Living Prices & Floor Plans
---
A retirement community in the heart of Phoenix, Arizona
Fellowship Square Phoenix is located in north-central Phoenix, a few miles east of the I-17 and north of Cactus Road. 
We provide a full range of senior living options on one campus - for all different budgets. Below, you will find more about the independent and assisted living options we offer, with direct links to each level of care for more information on prices, services, and floor plans.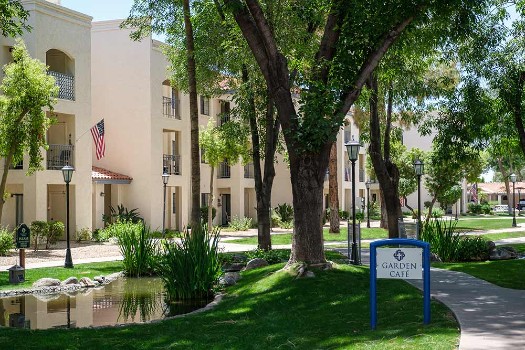 Independent Senior Living Apartments
At Fellowship Square Phoenix, we have a variety of one and two-bedroom apartments and Garden Homes to choose from. Each unit comes with a washer and dryer, a fully equipped kitchen, open floor plans, and plenty of closet space.
---
Looking for subsidized senior housing?
Follow the link below to learn more!
---
Assisted Living in Phoenix
Our assisted living apartments are designed exclusively for seniors, with high ceilings that create a spacious feel - comfort and security meet to create a cozy and welcoming space they can call home. Studio apartments feature a kitchenette and a spacious bathroom with a walk-in shower. 
---
Christian Care Manors, Affordable Senior Housing
Also located on the Phoenix campus, Christian Care Manors I, II, and III provide HUD-Subsidized Independent and Assisted Living for low-income seniors. 
---