Community Activities
Moving into a senior living community isn't about giving up your freedom and independence, it's about choice.
We offer continuing education, customized wellness programs, extensive opportunities to enjoy life-long hobbies, and outlets for new experiences. 
See what life is really like in senior living.


---
Monthly Newsletters & Calendars
Staying socially connected and engaged is a crucial part of maintaining overall health and wellness, especially for seniors.
Our Activities Department is truly dedicated to keeping our activities calendar fresh and inspiring.
---
Wellness & Exercise for Seniors
We partner with Symbria to provide a unique exercise and wellness program specifically designed for seniors. Also known as SeniorFITness™, the Well-Being program offers one-on-one fitness instruction, exercise classes and education sessions that enable seniors to stay fit, build strength and prolong their independence. This program is available to our residents at no extra cost.  Working hand-in-hand with residents' own physicians, the Well-Being team will design a personalized fitness program to meet the abilities of each participant. 
Fitness Center at Fellowship Square Phoenix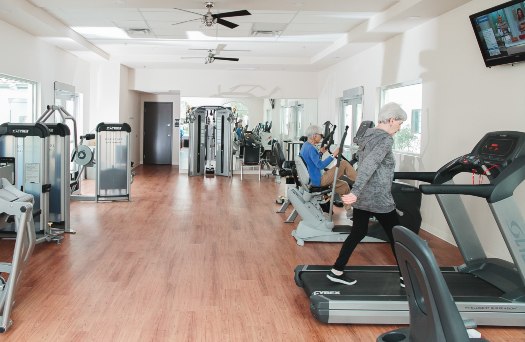 Our 1,350 square foot Fitness Center is well appointed with exercise equipment specifically designed for older adults. It is the perfect place for residents to work out on their own or with one of our fitness instructors.  
---
VSTBalance Program
One of the newest senior health and wellness programs we offer is the VSTBalance program. This artificial intelligence-driven system helps objectively identify areas in which seniors can improve their balance, gait, and mobility. These three elements play a key role in overall health, and if neglected, could contribute to a fall.
"I know I am stronger, have better balance and am healthier because of my participation in the program."
~ E. Stephens, Fellowship Square Resident
The system uses artificial intelligence and machine vision to complete the assessment, and then automatically generates a mobility/balance report after completion. The objective data from the report enables residents and our team to create a personalized plan to improve strength, balance, and mobility. Residents can take follow-up assessments and track their improvement using the VSTWell app. It's a great way to visualize progress!
---
Fellowship Square University
Fellowship Square University gives our residents the opportunity to take continuing education courses right here on campus!  Each semester is 9 weeks long, and class courses are based on resident surveys.  Recent class courses included: Computer 101 (Technology), Cell Phones 101 (both Apple and Android), Spanish 101 (Foreign Language), American Short Stories (Literature) and Early Defining Themes in the American Story (History) to name a few.
Continuing Education in Senior Living
Past Course Catalogs