Alexa Community at Fellowship Square-Mesa
Friday July 24, 2020
Categories: Independent Living, Assisted Living, In The News
Fellowship Square-Mesa is changing Senior Living with Alexa Community
Our Alexa Community at Fellowship Square-Mesa is one of the newest technological advances in Senior Living today. Alexa Community uses smart technology devices that are programmed to be a daily household helper. Fellowship Square-Mesa was one of the first Senior Living communities to adopt this technology into their campuses. In each of the residents' apartments, we have installed an Amazon Alexa device and a Smart Thermostat. Through voice-activated devices, residents can perform a wide range of functions that cater to their needs and preferences. We designed the Alexa Community to simplify daily life functions, provide easier access to the available features on campus, and add an extra measure of safety to each apartment.
Alexa Community at Fellowship Square-Mesa Increasing Residents' Independence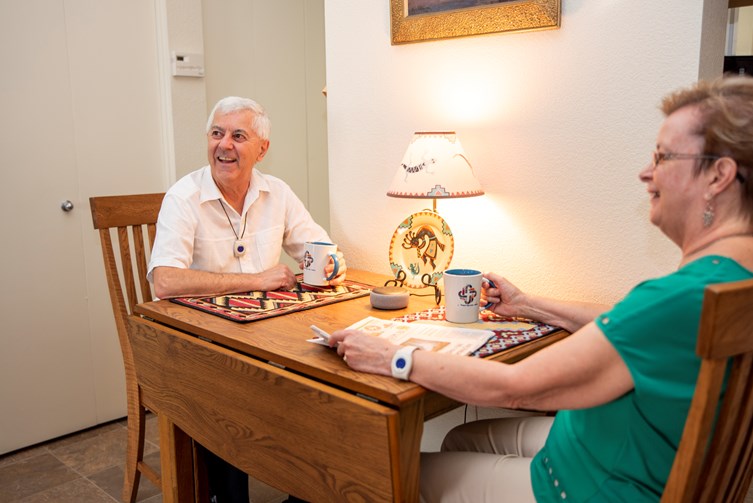 With voice technology, the Alexa Community can perform numerous functions that simplify life and allow residents to accomplish various tasks throughout the day. Due to the natural consequences of aging, many seniors struggle to perform daily tasks. Visual, mobility, cognitive, and other health issues limit their productivity and increase their reliance upon others. Our residents at Fellowship Square-Mesa, who use these devices, can significantly enhance their level of independence. In addition to Fellowship Square-Mesa's dedicated staff, our Alexa Community is an accessible resource for our seniors. It provides them with further support, comfort, information, and added security.
Alexa Community and the Echo devices
The Echo devices are simple and easy to use. Each Echo device is programmed specially for each resident by a member of the Alexa Community staff at Fellowship Square-Mesa campus. Every resident is provided with an easy-to-understand instructional packet and a thorough tutorial on how to use the devices. We also have an Alexa TV Channel 93 to tune into for further instructions on using Alexa and the Smart Thermostat installed in the apartment. Our Echo devices do not save any personal data or information. The Echo devices are only activated when the device's name, "Alexa," is spoken. After activating the device, a verbal command or question may be given such as "Alexa, where is the library?" or "Alexa, set a reminder to take my medication at 8 am." All verbal commands are included in the instructional packet.
What can our Alexa Community do at Fellowship Square-Mesa
Some of the functions our Alexa Community devices can perform include but are not limited to:
Completing a daily health check-in. Knowing who is not feeling well helps staff members identify residents who might need medical assistance and or transportation.
Adjusting the Smart Thermostat temperature in the apartment to maintain a constant, comfortable environment according to each resident's needs and preferences.
Submitting work orders for items that need to be repaired inside residents' apartments. This helps limit trips to and waiting time at the front office to submit requests for repairs that need to be addressed.
Providing daily announcements and information regarding Fellowship Square-Mesa's campus which can assist residents in remaining involved in the activities and facilities available on campus.
Notifying residents when the mail has been delivered to prevent unnecessary trips to the mailboxes.
Making phone calls hands-free to facilities on campus and outside of Fellowship Square-Mesa is particularly helpful for those who have visual or mobility problems and have trouble dialing a phone. This helps residents easily connect with family and friends. It also serves as an added safety precaution. If a resident falls and cannot reach a phone, or their pendant is not responding, they can ask Alexa to call security to get immediate help.
Setting reminders, timers, and alarms- this feature can remind residents to take prescribed medications each day or remind them of an upcoming doctor's appointment.
Playing any artists' music through iHeartRadio helps residents feel more at home while they listen to their favorite tunes. Those with visual problems who struggle to find the right channel or disc to listen to particularly enjoy this feature.
Reading aloud the Bible and informational, inspirational speeches about Technology, Engineering, and Design. In harmony with Fellowship Square-Mesa's motto of continuous learning and education, this feature is available to encourage residents to learn something new each day.
Lead the residents through at-home workouts and exercises that improve balance, strength, stability, concentration, and memory retention.
Play games and sleep sounds. There is a wide variety of background or "white noise" that can be played to help dull the apartment's silence and help those who have ringing in their ears or enjoy a cozy environment, sleep and relax.
And many more features available to use using our Alexa Community.
Fellowship Square-Mesa and Alexa Community help Residents Feel More Connected
There are many more features available using Alexa devices. Each element is designed to help residents perform daily tasks with more ease and efficiency, thus increasing their independence, confidence, productivity, comfort, and safety. Fellowship Square-Mesa's implementation of the Alexa Community encourages the residents to provide feedback and voice any concerns or questions.