Community Activities
Moving into a senior living community isn't about giving up your freedom and independence, it's about choice.
We offer continuing education, extensive opportunities to enjoy life-long hobbies, and outlets for new experiences. Our Activities Department is truly dedicated to keeping our activities calendar fresh and inspiring.
Be yourself today. And every day. 
---
Monthly Newsletters & Calendars
In the wake of the COVID-19 crisis, we have reimagined our activities program and we are following the CDC's safety guidelines to the utmost degree. 
Our Activities department has developed creative ways for our residents to have fun and stay connected while staying safe. The calendar has been rearranged to allow for very small (10 or less) group activities, where 6 feet of physical distance can be maintained. Our travelling 'Wine Down Wednesdays' and travelling Farmer's Market have become resident favorites. 
Staying socially connected and engaged is a crucial part of maintaining overall health and wellness. In difficult times, it's important to be surrounded by a supportive community – and know you are not alone.
To see our previous monthly newsletters and activity calendars, please click on the links below.
Monthly Newsletters

Monthly Calendars

 
 
 
 
 
Wellness & Exercise 
Our SeniorFITness™ program offers one-on-one fitness instruction to enhance the quality of life for our residents and we are proud to offer this at no additional charge.  Fellowship Square communities are the only retirement living communities to offer SeniorFITness™ to their residents.  Working hand-in-hand with personal physicians, our professional team will design a personalized fitness program to meet the abilities of each participant. 
Due to the Governor's Executive Order, our Fitness Center is currently closed. Our SeniorFITness trainers have developed small group exercise classes, which they hold in the activity room where 6 feet of physical distance can be maintained at all times.
Our 1,350 square foot Fitness Center is fully equipped, and is the perfect place for residents to work out on their own or with their fitness instructor.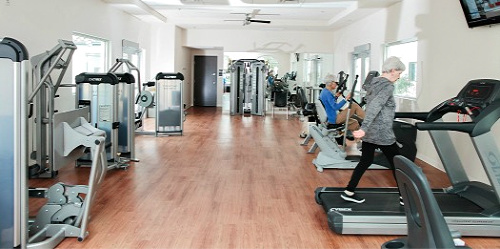 Fitness Center
Fellowship Square University
Fellowship Square University gives our residents the opportunity to take continuing education courses right here on campus!  Each semester is 9 weeks long, and class courses are based on resident surveys.  Recent class courses included: Computer 101 (Technology), Cell Phones 101 (both Apple and Android), Spanish 101 (Foreign Language), American Short Stories (Literature) and Early Defining Themes in the American Story (History) to name a few.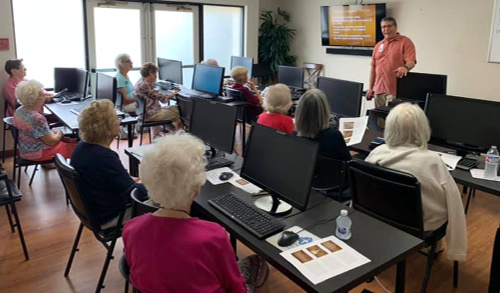 Learning Center